Sir Henry Browne Hayes
Henry Browne Hayes was the son of Attwell Hayes a successful merchant and industrialist with interests in brewing, milling and glass works.
Despite an inclination to irregular behaviour, Henry won an influential place in the community, becoming a captain in the South Cork Militia, a freeman of the city in 1782, and subsequently a sheriff. He was knighted in 1790 for gaining the favour of the Lord Lieutenant by staging an elaborate banquet and entertainments in his honour (which ultimately cost £250 and was paid for by local taxpayers). Ironically, Hayes was the Crown Agent for the transportation of 150 Irish convicts in 1791, only to involuntarily follow them nine years later.
Hayes' wife, Elizabeth, died young in 1794 leaving him with a son and three daughters. Finding himself with major debts and no way to pay them off, Hayes placed himself at the centre of the most notorious marital scandal of the period by abducting a wealthy Quaker heiress, Mary Pike, with a fortune said by some to amount to £20,000 and by others to £80,000. On the evening of 21 July 1797 Hayes ambushed Mary Pike's chaise and took her to his house (Vernon Mount, near Douglas) where a marriage ceremony was performed very much against her will. The bride's relatives quickly rescued her from Sir Henry's household and an award was issued for the sum of £1000 his capture.
Hayes evaded capture for two years before eventually surrendering himself. He was originally sentenced to hang but this was commuted to transportation for life to the penal colony at Botany Bay.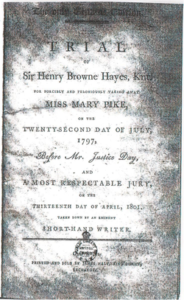 On his journey to Australia in 1801 Hayes bribed Captain Richard Brooks of the Atlas to be allowed various privileges and to be accompanied by his servant. He quarrelled with Surgeon Thomas Jamison who was on the same vessel, and when Hayes arrived in Sydney in 1802 he was sentenced to six months imprisonment "for his threatening and improper conduct".
After his release, Hayes purchased the property which he called 'Vaucluse' in 1803 where he built Vaucluse House, later to become the home of the distinguished Irish-Australian politician W.C. Wentworth. Vaucluse would later become the first property of the Australian Historic Houses Trust. Hayes surrounded his property with turf from Ireland to keep out the snakes which were common in the area and the tactic appeared to work.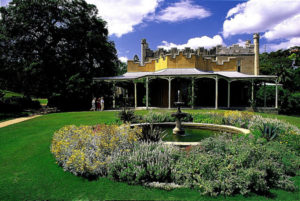 Hayes made himself a nuisance to Governor King (whom he called Hayes "a restless, troublesome character") by consorting with the wilder spirits among the Irish convicts, and by trying in 1803 to form a freemason's lodge after permission to hold a meeting for this purpose had been refused. It is doubtful if Hayes had a warrant to establish a lodge, though he claimed he did, but his meeting on 14 May 1803 is regarded as the foundation day of Freemasonry in Australia.
Hayes was pardoned in 1812 by the new Governor, Lachlan Macquarie, popularly known as the 'Father of Australia'. In that year he sailed to Europe in the Isabella with Joseph Holt, a United Irish general and leader of a large guerrilla force which fought against British troops in County Wicklow in 1798. They both survived a shipwreck of the Isabella at the Falkland Islands on their passage home. An interesting account of their shipwreck can be found in the Memoirs of Joseph Holt.
Hayes lived in retirement in Ireland for nearly 20 years and died in 1832 aged 70. He is interred with his wife, son and daughter-in-law in the Hayes vault of Christchurch, directly behind the Terry vault that can be seen from the crypt viewing box.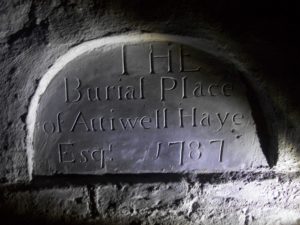 Our thanks to Rolf Grunseit and Michael O'Leary for the information