Triskel Courtyard, Cork's newest outdoor venue
Posted on: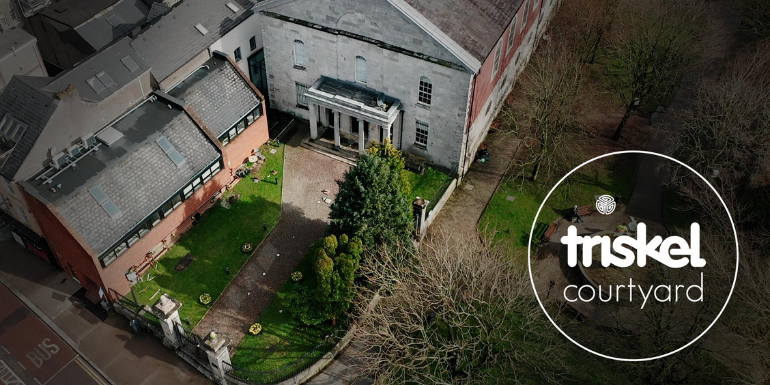 Musicians Mike Hanrahan and Lorraine Nash and comedian Colm O'Regan are amongst the acts scheduled to appear at Triskel Courtyard, a new covered space that can seat up to 50 people in pods. Triskel is working with Verdant Productions, Cork Folk Festival and the National String Quartet Foundation to programme a range of concerts and spoken word events with three shows each day from Thursday–Sunday, starting on 29 July.
Tony Sheehan, Artistic Director at Triskel, commented, "We are delighted that the Arts Council and Cork City Council have invested in the creation of this exciting outdoor space for the summer. For three weeks, we will have 21 acts across 38 shows, and are looking forward to bringing entertainment to the people of Cork and visitors."
Other acts include comedians Sinead Quinlan, Laura O'Mahony and Emma Doran, and musical acts Greenshine, Torcán and Little Hours, as well as Cork Cello Quartet, Ficino String Trio and student quartets Siciliana and Quay. Chris Kent and the often divisive David McSavage will also appear with more acts still to be announced.
Converting their courtyard into outdoor venue was made possible due to Triskel's success in achieving funding from the In the Open/Faoin Spéir award operated by the Arts Council, along with funding from Cork City Council who are also partners in the initiative. In The Open – Faoin Spéir is an Arts Council initiative that encourages a curated programme of multi-disciplinary, inclusive arts activity in public or open spaces in towns and communities around Ireland. Arts organisations and local authorities nationally competed for the funding.
Triskel Café will have picnic packages available with options to suit a variety of tastes. Tickets will be on sale from Monday 26 July on a phased basis, subject to licence. More details at www.triskelartscentre.ie.
PLEASE NOTE: seating is in pods of 4 with a small number of pods of 2 or 3. At each table in the seat map, you will see coloured dots denoting the number in the pod. You need to select all of the seats in that pod/table to continue to purchase. If, for example, there are 4 dots around a table, that means it's a 4-seater pod and you need to select (and purchase) all four to continue.