Triskel and Music Network announce musician for RESONATE residency
Posted on: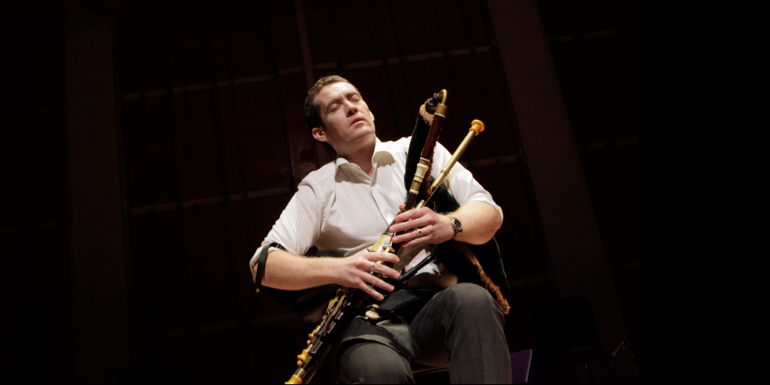 Uilleann piper David Power has been appointed as the Music Network RESONATE Artist at Triskel Arts Centre in Cork City. As part of the residency, he will develop exciting new work with a number of collaborators to share with audiences in November.
[UPDATE This concert will take place on Saturday 26 March at 8pm. Tickets are on sale now here.]
Tony Sheehan, Artistic Director at Triskel, said, "David Power is undoubtedly one of the finest uilleann pipers performing today. We look forward to working with him over the next few months and to welcoming audiences to Triskel later this year to enjoy the results of his RESONATE residency."
Throughout his distinguished career to date, David Power has travelled the world as a solo musician, in duos with fiddlers Martin Hayes and Willie Kelly and with harpist Triona Marshall. David has collaborated with many other artists, including the award-winning Music Network quartet Edges of Light, Masters of Tradition, Pipers Union, the baroque ensemble Camerata Kilkenny, ConTempo Quartet and pipe-organist Malcolm Proud.
During Power's RESONATE residency in Triskel, he will collaborate with the Finnish baroque violinist Marja Gaynor and the Irish flamenco guitarist John Walsh. The trio will research and develop unique arrangements of music from the Irish, baroque and flamenco folk traditions for their combination of instruments.
RESONATE is a major new initiative between Music Network and six partner venues around Ireland and provides awards of between €6,000 and €10,000 in addition to a range of additional supports to facilitate the creation of new work and creative partnerships between July and November 2021.
Fiddler, singer and multi-instrumentalist Clare Sands has been appointed to glór (Ennis), songwriter and performer Emma Langford will be resident in Ionad Cultúrtha (Baile Mhúirne), guitarist Eamon Sweeney will develop work at The National Opera House (Wexford), violinist Larissa O'Grady will be resident at The Dock (Carrick-on-Shannon) and composer, improviser and performer Philip Christie has been appointed to Regional Cultural Centre (Letterkenny).
Each of the musicians in residence will develop exciting new work with a number of collaborators between July and November 2021, and audiences around the country will have opportunities to enjoy the new material created through live concert performances and online content. Dates for the concert performances will be announced in the autumn, subject to public health regulations.
Sharon Rollston, CEO of Music Network commented: "Music Network is delighted to embark on this new venture with six of our partner venues. Our shared aim was to create brand new opportunities for professional musicians. RESONATE is our most extensive residency programme to date and will provide the selected musicians with the vital time, space and income needed to devise and produce quality new work for audiences around the country. There was a very strong response to the programme, resulting in six very high calibre musicians working in a range of musical genres being awarded. We would like to acknowledge the time and effort that all of the applicants dedicated to applying for this residency opportunity."