Triskel Gets To Know … Lidia Jewloszewicz-Clarke
Posted on: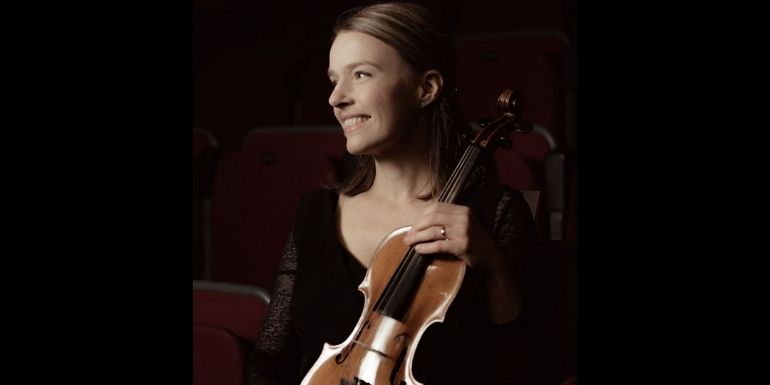 Lidia Jewloszewicz-Clarke began playing violin at the tender age of seven in the National Music School in Koszalin in Poland and joins us for several concerts in April – she performs with Musici Ireland for our Mozart Festival and also with the Banbha Quartet – she certainly keeps busy! We got to know her a bit better.
Who is your hero? I admire many people for many things but most recently I admire all the front-line workers, their resilience and ability to adapt to ever changing circumstances. My mother in law is a retired nurse who works in Covid clinic in the UK. Her drive to help out to the best of her ability as well as that resilience makes her a hero in my eyes.
If you could perform anywhere, where would it be? I have had an opportunity to perform in many fantastic concert halls across the globe. It is always an exciting venture to perform in beautiful hall, with perfect acoustics, a rich history and filled with an enthusiastic audience and I feel incredibly lucky to have had those opportunities. Currently I don't dream of performing in concert halls- I dream of playing with people and for people, in front of live audiences and I hope that soon we will be able to experience those shared moments again.
What is your favorite thing about your career? It has to be people! As a violinist I get to play with so many other musicians in so many different settings.  I love the camaraderie and exchange of ideas that happens every time you come together in a group. I love meeting new people, getting inspired and becoming better musician as a result.
What motivates you to work hard? A challenge!
What makes you laugh the most? My 5 years old daughter. She has a great sense of humor and makes me laugh daily!
What would you sing at Karaoke night? I love Motown. If only I had the voice I would sing any song by Minnie Riperton, Ella Fitzgerald or Stevie Wonder. In fact, my daughter believes that "Isn't she lovely" by Stevie Wonder was written for her …
Would you rather win the Lotto or work at the perfect job? Why? Of course I would love to win the lottery and I enjoy fantasizing about how I would divide it between family and friends so that everyone is comfortable. I can't imagine giving up on being musician though…I grew up in a musical family and have been playing since I was little. This is who I am I would not want to change that.
List two pet peeves Cold tea and snails munching on my lettuce.
What three things would you take with you to a desert island? I would take my daughter, husband and mobile phone. Since the pandemic begun I haven't been able to meet with my family in person and the technology has been the only way we have been able to be there for each other and mark important family occasions despite being thousands of kilometers apart.
If you ruled your own country, what would be the first law you would introduce? This is such a tricky question for me. I feel there are so many laws that are important to form an equal, fair and just society.
I would not know where to start…
Get your tickets now!
Mozart Festival Friday 2 And Saturday 3 April
Banbha Quartet Friday 9 April