Fri 2 Apr - Sat 3 Apr 2021
8:00pm
|
€10
|
Fri 2 Apr - Sat 3 Apr 2021
8:00pm
|
€10
|
This event is online
It is always a good time for Mozart! Join us this Easter for a wonderful celebration of some of his most loved and treasured compositions.
This two-concert series will feature Mozart's much-loved Piano Concerto in D minor K.466, his joyful Piano Concerto in A major K.414 alongside his beautiful Concerto for flute and harp. All three concertos have been arranged for soloists and string quartet thus making this a rare opportunity to hear Mozart's celebrated concertos in a more intimate and personal way. Mozart's sublime Adagio in B minor and dramatic Fantasy in C minor for solo piano will open this wonderful two-concert event. This celebration of Mozart promises to fill your musical soul with joy.
Take a little timeout from the craziness of the world we live in today and enjoy the timeless beauty of Mozart's effortless melodies, stunning harmonies and heartfelt works of art.
The first concert will go live at 8pm on Triskel's Digital Stage on Friday 2 April, the second at 8pm on Saturday 3 April. Both concerts will be available for ticketholders to watch until 8pm on Monday 5 April.
Dr. Fionnuala Moynihan: Piano and Curator of Festival
Geraldine O'Doherty: Harp
Kieran Moynihan: Flute
String Quartet: Musici Ireland
Beth McNinch: Viola and artistic director of Musici Ireland
Lynda O'Connor and Lidia Jewloszewicz-Clarke: Violin
Yseult Cooper Stockdale: Cello
---
Programme
Friday 2 April
Adagio in B minor K.540:
Fionnuala Moynihan (piano)
It was very rare for Mozart to compose in the key of B minor and the only other instrumental work he composed in this key appears in the slow movement from his flute quartet no.1. A hauntingly beautiful work composed for solo piano Mozart entered it into his catalogue of works in March 1788. This piece has an improvisatory feel and bears all the characteristics of Mozart's genius. I adore performing it.
Fantasy K.475 in C minor:
Fionnuala Moynihan (piano)
This stunning work is unique among Mozart's compositions as it was published alongside Mozart's piano sonata in C minor K.457. This is the one and only time Mozart ever published a piano sonata accompanied by a work of another genre. It was composed in Vienna on 20 May in 1785. Personally, I love performing this work as it allows one's imagination to take flight. It is a fantasy, meant to be set free from any musical constraints of the time. At times, this work showcases Mozart's ability to glimpse the characteristics of the Romantic era that was to follow. Several 'sections' make up this work and each one has a character of its own ranging from the gentle, sweet and naïve to the passionate, desolate and majestic.
Piano Concerto K.414 in A major:
Fionnuala Moynihan (piano) with Musici Ireland
Composed in the Autumn of 1782 in Vienna, this concerto was the first of a set of three keyboard concertos that Mozart performed at his Lenten concerts in 1783. It falls into three exquisite movements filled with beautiful melodic lines, faultless harmony, inspired articulation and heartfelt emotion. The second movement is notable for quoting a theme from the overture to La calamita de' cuori composed by Johann Christian Bach. Mozart's former mentor in London, who had just died on 1 January 1782. Mozart felt the world a poorer place for his passing and we can take this concerto to be a musical epitaph from Mozart to his beloved teacher.
Saturday 3 April
Piano Concerto K.466 in D minor:
Fionnuala Moynihan (piano) and Musici Ireland
The first performance of this passionate and stunning work took place at the Mehlgrube Casino in Vienna on 11 February in 1785. This is a much-admired concerto and a young Beethoven kept it in his repertoire. Several artists of note wrote cadenzas for their own performances of it including Brahms, Clara Schumann, Hummel and Busoni. With a dramatic opening movement, a second movement that flits between serenity and passion and a finale that abounds with energy and excitement this concerto has earned its place as one of the most treasured concertos for piano ever written.
Concerto for Flute and Harp K.299 in C major:
Geraldine O'Doherty (harp) and Kieran Moynihan (flute) with Musici Ireland
Composed in Paris in April 1778, this composition is in the form of a Sinfonia Concertante which was very popular in Paris at the time. Mozart composed this work for the Duke de Guines and his daughter. The Duke, though wealthy and a prominent member of society, was also noteworthy for failing to pay Mozart the full amount for this composition as well as lessons he gave to the Duke's daughter. This concerto has become one of the most cherished and beloved concertos for duo. The beauty of harp and flute combine to create a sound that is truly special. This concerto bears all the hallmarks of Mozart's masterful touch and to me it always brings a feeling of joy, hope and harmony.
Sit back and enjoy this journey through some of Mozart's most iconic works. Mozart's genius transforms the ordinary into the extraordinary and reminds us of the power music has to brighten each and every day if you let it enter your heart.
---
About the Musicians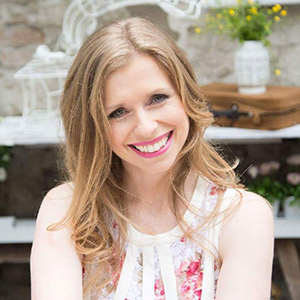 Dr. Fionnuala Moynihan is widely acknowledged as one of Ireland's leading pianists. She has a particular affinity with the works of baroque, classical and early romantic composers. In 2010 Fionnuala performed the Complete Piano Sonatas of Mozart in the Hugh Lane Gallery, Dublin, in a series of five recitals. She is the only pianist to have undertaken the formidable challenge of performing this cycle in its entirety in Ireland. Since then, Fionnuala has performed six complete piano sonata series performing the complete cycles by Mozart, Haydn, Clementi and Schubert.
Fionnuala has given solo recitals and concerto performances throughout the UK, France, Holland, Italy, Israel, U.S.A, Slovenia, Croatia, Serbia, Russia, Poland, Japan, Holland and Hungary as well as extensively and regularly in Ireland. Fionnuala was invited by the University of Warsaw and the Irish Embassy in Warsaw in November 2010 to give a recital of works by John Field and a lecture recital exploring the link between Chopin and Field to commemorate the bicentenary of the composer's birth in November 2010. In September 2011 she gave a recital of his works in the Glinka Museum of Musical Culture, Moscow, Russia, a special occasion as it is the city where Field both spent a great deal of his life and is buried. In November 2018, Fionnuala was invited back to Moscow to give a recital of works by Tchaikovsky to mark his 125th anniversary. This concert, streamed live on YouTube, was an enormous success and took place in Moscow's largest Catholic Cathedral. Fionnuala is an active chamber musician and has recently performed with such celebrated artists as sopranos Daniele De Niese and Deirdre Moynihan, the Contempo Quartet, violinist Mia Cooper, tenor Gavan Ring, cellist Ailbhe McDonagh and flautist Kieran Moynihan.
In 2009 Dr Fionnuala Moynihan became the first person to be awarded a Doctorate in Music Performance from the Royal Irish Academy of Music and the Dublin City University. Fionnuala began her piano studies at the Cork School of Music, received her Honours Bachelor of Music degree from the Birmingham Conservatoire where she graduated with the Graduate award for pianists and the prestigious Weingarten scholarship enabling her to commence her studies at the Franz Liszt Academy of Music in Budapest (2001–2004). Fionnuala also studied at the Paris Conservatoire from 1999–2000.
Fionnuala has been awarded many prizes both at home and abroad including a Bank of Ireland Millennium Scholarship, the prestigious Maura Teissier Bursary and the Rena Menasche Award from the Tel-Hai Piano Masterclass series held in Israel. She was awarded the John Field Prize at the 2009 AXA Dublin International Piano Competition.
In July 2014 she gave a Summer concert tour in Japan with five of her brothers and sisters. Their fusion of both the classical and traditional genres has earned them praise both at home and internationally. Her debut CD The Ivory Lady was launched in January 2015. This CD is a classical-trad fusion CD and showcases Fionnuala's love for both the classical and traditional music genres. In April 2016, she recorded a recital of sonatas by Muzio Clementi for The Lyric Concert on RTÉ Lyric FM Radio.
She represented Ireland in the Embassy Festival in The Hague in September 2018. Recently, Fionnuala has been performing and researching the music of Clara Schumann and gave a solo recital of her works at the 2019 Kilkenny Arts Festival and The Hugh Lane Gallery Dublin. She also gave a lecture-recital for the Gresham College of Music in Mercers Hall, London, in January 2020. Future engagements include: a recital in Cairo Opera House, Egypt, a recital in Prague at the celebrated Bethlehem Chapel, a recital in the prestigious Catholic Cathedral in Moscow and a series of recitals as guest artist at the 2021 Sligo International Chamber Music Festival by kind invitation from the Vogler Quartet. Fionnuala holds the position of University Tutor in Keyboard at the National University of Ireland, Maynooth. Her latest CD, Melodies of Nations, was released on the Hedone Label in June 2017.
Website: www.fionnualamoynihan.com
---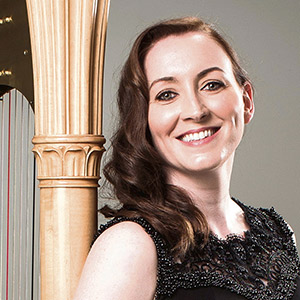 Geraldine O'Doherty studied the harp at the Guildhall School of Music and Drama in London, and the Hochscule fur Musik, Zurich with Catherine Michel. During her studies, she won the Reinl International Harp Competition in Munich and the Kiwanis Music Prize in Zurich. An active chamber musician, Geraldine has recorded five CDs of new arrangements for harp, violin and cello, an album of works for flute, viola and harp with the group "Triocca" on the Lyric FM label and most recently, an album with the Ficino Ensemble on the Ergodos label. Her chamber music ventures focus on expanding the repertoire for concert harp, so far resulting in premieres by Gareth Sholdice, Linda Buckley, John Buckley, Eric Sweeney, Philip Martin, James Wilson and Anslem McDonnell amongst others.
Geraldine was appointed as Principal Harpist with the RTÉ Concert Orchestra in 2006, and in the same year, began teaching at the Royal Irish Academy of Music. Outside of these roles, she has regularly toured the UK with the John Wilson Orchestra, also joining them for performances at the BBC Proms. She also accompanied the UCD Choral Scholars for three albums for Signum Records, recording new works for choir and harp.
---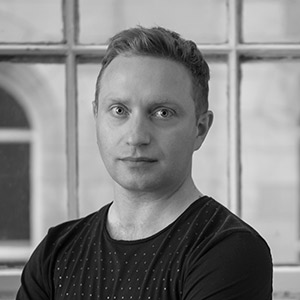 Kieran Moynihan began his studies at the Cork School of Music and graduated from London's Guildhall School of Music and Drama in 1999.
Whilst in London he specialised in opera, performing with the Orchestra of the Royal Opera House in Covent Garden, Welsh National Opera, Opera North and Scottish Opera. Symphonic engagements included BBC Symphony Orchestra, BBC Concert Orchestra, City of Birmingham Symphony Orchestra, Royal Liverpool Philharmonic, BBC National Orchestra of Wales and BBC Scottish Symphony Orchestra. He has worked with ballet companies such as English National Ballet, Birmingham Royal Ballet, Scottish Ballet and Ballet National de Cuba. Kieran has toured with major West End productions of The King and I, Miss Saigon, Mary Poppins and Les Misérables.
Since returning to Ireland in 2010, Kieran has worked with the Cork Opera House Concert Orchestra, the RTÉ Concert Orchestra, RTÉ National Symphony Orchestra, Ulster Orchestra, Irish Chamber Orchestra, Wexford Opera and Northern Ireland Opera. In Cork, he has taken part in productions of Maria de Buenos Aires, Der Vampyre and The Wizard of Oz. He continues to work with UK orchestras such as Scottish Ballet and the Royal Ballet Sinfonia.
CDs include recordings with Placido Domingo, Altan, Sharon Shannon, Les Misérables Live! and Brian Byrne while he has also recorded film soundtracks including the Oscar nominated Room. Kieran and his family were recently featured in the TV series Ceol Ón Chlann on TG4.
---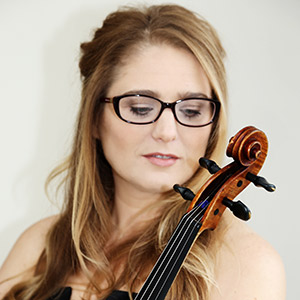 Beth McNinch began her freelance career in London after completing her studies at the Guildhall School of Music and Drama and the Royal Academy of Music, where she performed regularly with the London Symphony Orchestra, City of Birmingham Symphony Orchestra, Royal Philharmonic Orchestra, BBC Symphony and Concert Orchestras, English National Opera and the London Mozart Players. Since moving to Ireland in 2007, Beth has held the position of principal viola of the Wexford Opera Orchestra since 2008 and has appeared as guest leader with both the RTÉ Orchestras, the Royal Ballet Orchestra and London Sinfonietta. As a chamber musician, Beth has performed at the Wigmore Hall, Purcell Room and Queen Elizabeth Hall in London, alongside musicians including Clio Gould and Colin Carr. Beth is founder and Artistic Director of Musici Ireland, a diverse and flexible chamber ensemble who have performed over 100 concerts around Ireland. 2019 saw their debut at the Kilkenny Arts Festival with two sold out performances.
As a soloist, Beth has performed the Telemann Viola Concerto many times at St Martin in the Fields, London and in 2019 as part of the Ardee Baroque Festival. In 2015, she was soloist for the Mozart Sinfonia Concertante with violinist Ioana Petcu-Colan in the National Opera House of Ireland with Wexford Sinfonia. She has also appeared on many recordings and film scores and presents the arts podcast Musici Chats.
Beth teaches for Music Generation Wexford, currently providing string tuition to over 40 youngsters in rural areas of the County and conducts the Wexford County Youth Orchestra. Beth plays on a cut down Viol by Barack Norman, dating back to the1650s. The instrument was made into a viola by Matthew Hardie in 1818.
Beth is supported by Music Network's Music Capital Scheme, funded by The Department of Culture, Heritage and the Gaeltacht. Music Network is funded by The Arts Council
---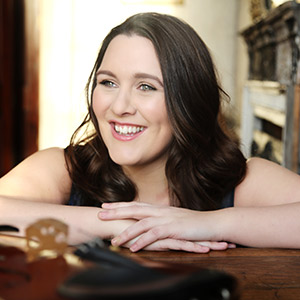 Lynda O'Connor is one of the greatest Irish violinists of her generation. Showing particularly early promise, she made her debut solo performance at the age of four in the National Concert Hall, Dublin, which began her international career as soloist, chamber musician and orchestral leader.
Lynda's soloist career has included many memorable performances including Mozart Sinfonie Concertante with Nobuko Imai and Bach Double Violin Concerto with Chee Yun Kim alongside Camerata Ireland. In 2016 she performed as a soloist with Giles Apape and the International Mahler Orchestra at a Menuhin Tribute concert in Frankfurt. Lynda has also toured France with the Wexford Sinfonia performing Mendelssohn Violin Concerto. More recent performances include Tchaikovsky, Saint-Saens, Beethoven, Bruch and Mozart Violin Concertos with Camerata Ireland, Sinfonua, Dublin Orchestral Players, Greystones Orchestra and the Orchestra of Ireland. In 2018/2019 Lynda enjoyed touring Ireland with her concert programme of Vivaldi's four seasons and Bill Whelan's Innishlaken performing in Castletown House and the Drogheda International Music Series with the Wolfgang Ensemble and violinist Mia Cooper joining her for Whelan. As a chamber musician, Lynda has collaborated with a dazzling array of artists including Barry Douglas, John O'Connor, Michael McHale, Finghin Collins, Alessio Bax, Celine Byrne, Michael O Suilleabhain, Frankie Gavin, Mark Redmond, Fionualla Hunt, members of the Vanbrugh string quartet and members of the Pavao Quartet. In 2011, Lynda made her debut USA broadcast in Boston with Barry Douglas.
Lynda is a full time/founding member of a number of chamber ensembles including Ficino chamber ensemble, a large chamber group established by viola player Nathan Sherman; Belisama piano trio with cellist Ailbhe McDonagh and Pianist Orla McDonagh; Trio Elatha, a classical/traditional crossover group with guitarist Brendan Walsh and cellist Ailbhe McDonagh; the Wild Turkeys Ireland, a traditional Irish folk group with fellow award-winning musicians and a duo with pianist Alexander Bernstein. With these groups Lynda has enjoyed performances across USA, Switzerland, Luxembourg, Germany, France, Serbia, UK and Ireland. O'Connor is in demand as an orchestral performer, both at home and abroad, as a principal player, working with the International Mahler Orchestra, Irish Chamber Orchestra, Camerata Ireland, The RTÉ Concert Orchestra, The Wexford Opera Orchestra, The National Orchestra of Ireland, The Dublin Philharmonic Orchestra, The Blackwater Valley Festival orchestra, Plano Symphony Orchestra, Aalborg Symphony Orchestra among others. She has toured internationally with these orchestras including performances in Carnegie Hall, Cadogan Hall as part of the BBC Proms, China, Mexico, Washington as part of the Smithsonian Festival, Theatre des Champs-Elysees in Paris as resident artists with Camerata Ireland, St Petersburg, Moscow, Belgium, Germany, Warsaw as part of the International Beethoven festival, Spain, Shanghai, Beijing and Finland as part of the Naantali International Festival.
Lynda also records regularly for film, tv and radio, having worked with the Irish film orchestra, and a host of well-known international recording artists including U2, Michael Buble, Katie Melua, Celtic Woman, Celtic Thunder, Van Morrison, Sharon Shannon, Daniel O Donnell, The Priests, Joe Dolan, The Blizzards and Declan O'Rourke. With a keen interest in education Lynda is a member of the National Concert Hall ECO band who perform education workshops regularly for children of all ages. She also performs with Mobile Music Machine, the brain child of cellist Gerald Peregrine, who travel around the country performing in schools educating classes about string instruments, classical music and the elements of performing in an ensemble. Lynda has a private teaching studio at home where she teaches students from as young as three years old and also holds a teaching position in the Royal Irish Academy of Music, Dublin where she teaches both second and third level violin students. She has also guest lectured at TU Dublin in both classical and traditional music. Upcoming engagements include performances in the Boyne Music festival, a concert tour with the Belisama piano trio with cellist Ailbhe McDonagh and pianist Orla McDonagh, a series of concerts with Ficino ensemble as part of the National String Quartet Foundation, a tour in Norway with singer Helene Boeksle, a tour of France with The Wild Turkeys Ireland and an appearance in Kilkenny Arts Festival 2021. Lynda also looks forward to recording her debut album in 2021 with her interpretation of Vivaldi's Four Seasons paired with a newly composed work for trad fiddle and RTÉ Concert Orchestra by Bill Whelan.
---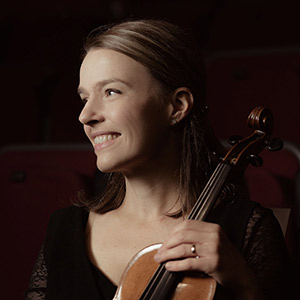 Lidia Jewloszewicz-Clarke began playing violin at the age of seven in the National Music School in Koszalin in Poland. Lidia has distinguished herself in many national and international competitions and prizes, both as a soloist and chamber musician. She has also been awarded a number of scholarships and awards, including Scholarship of President of University of Music in Luzern in Switzerland in 2003 and Artistic Scholarship of the President of Gdańsk for Special Achievements in Music and Culture in 2004. In the same year Lidia was awarded the Gdansk Mozart Prize, which led to several performances as a soloist of Mozart's violin Concerto in G major. After moving to Ireland, in 2013 she won the Hibernian Orchestra Concerto Competition which led to her first performance as a soloist in Ireland with Prokofiev Violin Concerto No. 2. She regularly works with Irish orchestras and groups that include RTÉ Concert Orchestra, RTÉ National Symphony Orchestra, Barry Douglas Camerata Ireland Ulster Orchestra, Wexford Opera Festival, Musici Ireland and Crash Ensemble. As a soloist and member of various groups, she toured in Asia and most European countries at many venues, which included: NCPAC Beijing, NCPA Mumbai, Concertgebouw Amsterdam, Royal Albert Hall, Royal Festival Hall, Royal Opera de Versailles, St Martin-in-the-Fields, St. John's Smith Square and many others.
Lidia has a keen interest in contemporary music and has led the Irish premiere of Dubliners by Andrew Synnott in 2017.
In 2005 she graduated with distinction from the S. Moniuszko Academy of Music in Gdansk in the class of Prof. Pawlak. She then moved to London, where she furthered her education at the Royal Academy of Music, where she studied under Prof. Remus Azoitei and graduated with MA in performance and LRAM teaching diploma. She participated in masterclasses with Tasmin Little, Sebastian Hamann, Aleksandar Pavlovic, Konstantin Weitz, Edward Zienkowski, Tomotada Soh, Wanda Wilkomirska, Krzysztof Wegrzyn, Jadwiga Kaliszewska, Bartosz Bryla.
---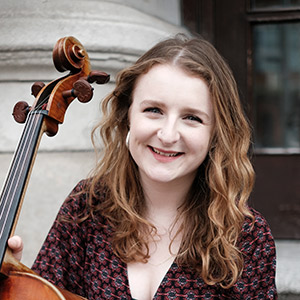 Yseult Cooper Stockdale is a freelance cellist currently based in Ireland. She has worked with the Irish Chamber Orchestra, both RTÉ orchestras, Welsh National Opera, London's Southbank Sinfonia, Camerata Ireland and Bournemouth Symphony Orchestra. Her biggest passion is chamber music and she had a spring tour in 2019 with the Alberi Piano Trio, including performances at Music for Wexford and the Crawford Summer Lunchtime Series. She has also been invited to play with Musici Ireland, Crash Ensemble, Ficino Ensemble, The Robinson Panoramic Quartet and London-based Scordatura Collective. In 2018 she played at the inaugural Beckett Chamber Music Festival and has also played as a young artist with the Britten-Pears Orchestra and at Bantry Chamber Music Festival and Chamber Music on Valentia. In 2018, her concerto performances included the Schumann Cello Concerto with the Cork Fleischmann Symphony Orchestra, and Beethoven's triple concerto with Wexford Sinfonia. She has also performed as soloist in the NCH, playing Elgar, and in 2016 toured with the Esker Festival Orchestra performing the Dvoark concerto.
Keen to maintain a stimulating and multi-genred career, Yseult is a member of the experimental Kirkos Ensemble, with whom she has performed over 60 premieres, including many multi-disciplinary performances and solo commissions. She has also recorded, performed and collaborated with artists such as the Icelandic JDFR, Bastard Assignments, Alekxandr, Anna Mieke, Glasshouse, The London Contemporary Music Festival Orchestra, Bell x1, visual artist/rapper Kojaque, and in April 2020 developed an online performance with sound artist Philip Fogarty, in association with Music for Galway and supported by the Arts Council.
Yseult was a recipient of the John Vallery Memorial Prize for highest placed string player at the 2015 Freemasons Young Musician of the Year and was awarded the 2016 Yamaha Music Foundation of Europe scholarship. Yseult has a 1st Class Honours MA from the CIT Cork School of Music, and BA from the Royal Irish Academy of Music, where her teachers were Christopher Marwood and Bill Butt. In 2015/16 she studied at the Hochschule für Musik und Theater "Felix Mendelssohn Bartholdy", Leipzig, with Peter Hörr.
---

Book Tickets