Fri 29 Sep 2023
8:00pm
|
€26
|
Get 15% off when you purchase a ticket for each of the five concerts!
Fri 29 Sep 2023
8:00pm
|
€26
|
Get 15% off when you purchase a ticket for each of the five concerts!
What do you get when an American bluegrass banjo and an Irish tenor banjo join forces? In the case of Coleraine's Damien O'Kane and California's Ron Block… fireworks! A spectacular sound like nothing you could ever imagine, a union of transatlantic cultures melding two styles and two approaches creating a life affirming, uplifting, truly captivating effect.
With two bold, highly acclaimed recent albums to his name the BBC Radio 2 Folk Awards Best Album nominated Damien thought it was high time to join forces with a musician he had long admired, Alison Krauss & Union Station banjo star and multi award winner Ron Block (14 Grammys and 6 Bluegrass Music awards and that's just for starters ). Widely regarded as two of the greatest exponents of the banjo they have collaborated to create arguably their own genre, Banjophony, something never heard before…subtle, awe-inspiring, energetic and majestic. They also happen to be highly regarded vocalists in their fields and illuminate that on their most recent release.
At this year's Cork Folk Festival, they'll perform tracks from their new album Banjophonics, alongside older tracks from their hugely popular first album – showcasing another masterclass in innovation and moulding of two traditions to ground-breaking effect. With a full band line-up, the banjo maestros are joined on stage by Scotland's leading 'Bass Man' Duncan Lyall on bass and moog and Ireland's Stevie Byrnes on guitars and stomp. So what to expect? It's going to be a banjo party!
'Inspirational…new and innovative sound…exquisitely well played…The energy, groove and technique will inspire musicians of any genre' – Gerry 'Banjo' O'Connor.
'I really like this project a lot. It's incredibly well played…Anyone that likes Irish and American roots music will love this record.' – Ricky Skaggs
Cork Folk Festival 2023
The Cork Folk Festival is gearing up for its 44th edition this autumn and will pack in nearly forty events from Wednesday 27 September to Sunday 1 October, including five concerts at Triskel featuring some of the best traditional, sean nós and folk musicians from Ireland and abroad. These concerts will be very special experiences for artists and audiences alike as they bring the best in musical storytelling to Cork.
Get 15% off when you purchase a ticket for each of the five concerts!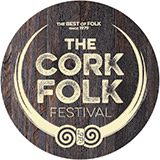 Book Tickets