Triskel Gets To Know … Robin Panter
Posted on: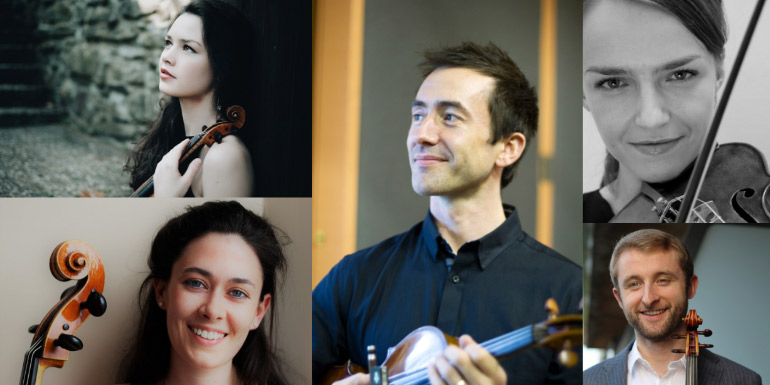 The Spotlight Chamber Music Series is based on the principle of bringing together some of Ireland's most dynamic and distinguished musicians to play with one another in small ensembles. Robin Panter (he's the one in the middle of the pic) will perform during the first concert in the new series on Saturday 7 September at 1.10pm and we got to know him a little better.
What is your favourite cinema treat?
Cuppa T and chocolate
What is your go-to motivation music?
Janacek Sinfonietta, Mozart 40,  Beatles Abbey Road, Gentle Giant
What is the most memorable place you have performed?
Albert Hall, London
Radio or podcasts? Any recommendations? 
Radio Lab Podcast, NPR, Serial (This American Life), Desert Island Discs Radio 4
Favourite place in Cork 
Triskel Arts Centre*
Is there a band/artist you enjoy that you would describe as a 'guilty pleasure'?
Django Reinhardt and Stephane Grappelli. Also Giles Appap.
Do you have a favourite movie soundtrack?
I like all the John Williams' Star Wars and Indiana Jones etc…
As a child, what did you want to do when you grew up?
Work with animals
Who are the three people at your dream dinner party? Why?
No idea. With two young children I'd love to just go out for dinner with my wife!
How do you relax after a concert?
A long drive and an interesting podcast!
You can book tickets for Spotlight Chamber Music Series I here (we don't charge booking fees so pre-book and avoid the queues!).
*We didn't tell him to say that 🙂