Triskel Gets To Know … Geraldine O'Doherty
Posted on: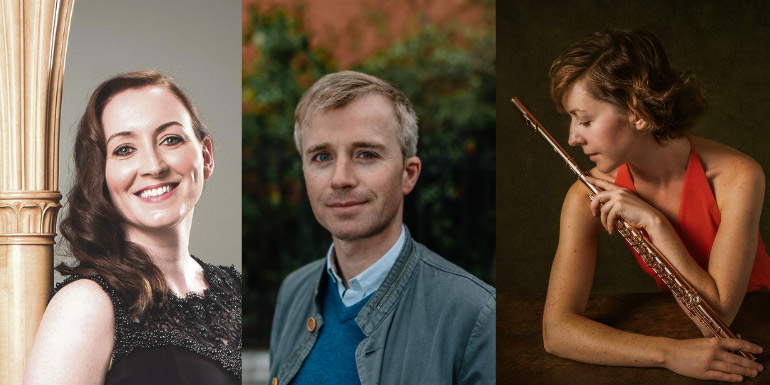 The second concert in the Spotlight Chamber Music Series is on Saturday 5 October at 1.10pm and one of the musicians is harpist Geraldine O'Doherty (she's the one on the left in the photo). Read on to get to know her a little better.
What is your favourite cinema treat?
Cheesy Nachos.
What is your go-to motivation music?
Earth, Wind and Fire.
What is the most memorable place you have performed?
Radio City Music Hall, New York (dressed in emerald green!).
What is your most listened to radio station?
Lyric FM, it's the best!
Is there a band/artist you enjoy that you would describe as a 'guilty pleasure'?
I've no embarrassment or guilt about loving all Stevie Wonder's music so…No!
Do you have a favourite movie soundtrack?
E.T. Thrilling every time I hear it and the first film I saw in the cinema.
As a child, what did you want to be when you grew up?
E.T.
Is there a musician whose work particularly inspires you?
My Mum, who apart from being a brilliant musician, has a work ethic to match.
Who are the three people at your dream dinner party? Why?
If ghosts are allowed, I'd invite Ann Mason-Stockton who was known as "The Hollywood Harpist", so I could listen to her tales of playing on soundtracks from Gone with the Wind right up to Schindler's List. The conductor and composer André Previn, whose autobiography is the funniest and most fascinating I've read. My Grandad, who was born in 1896, because I'd like to hear about his life on the Inishowen peninsula and see what he was like.
How do you get ready for a concert?
The harp is always on stage so it's usually not possible to warm up, instead, I have a cup of tea and put on even more make up whilst chatting with colleagues to keep occupied. Before and after that, I tune and check the strings in case any are about to pop!
Tickets are on sale now – click here to book.
Please note that all seating is allocated so you can pre-book your favourite seat and avoid the queues! (And we don't charge any booking fees.)