Triskel Gets to Know … Geraldine O'Doherty
Posted on: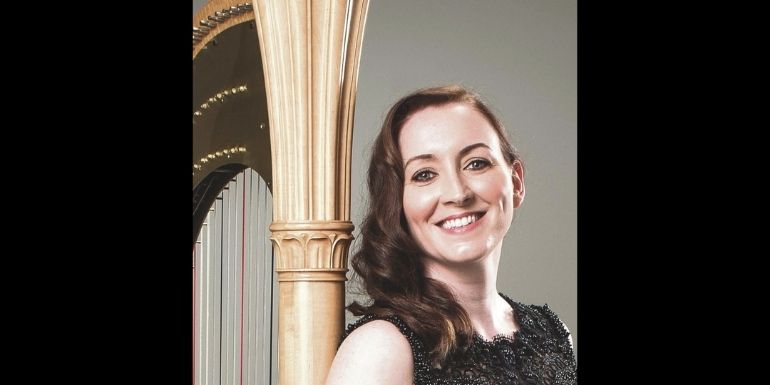 Geraldine O'Doherty's chamber music ventures focus on expanding the repertoire for concert harp, so far resulting in premieres by Gareth Sholdice, Linda Buckley, John Buckley, Eric Sweeney, Philip Martin, James Wilson and Anslem McDonnell amongst others. We got to know her ahead of her performance with the Mozart Festival in April.
Who is your hero? My Mother, Moya. Her passion for playing and teaching music is as strong as ever and she has always had an incredible work ethic. Even with three small children, she was up at 5 or 6am getting her practice done before we woke up. She sets an amazing example by staying so motivated.
If you could perform anywhere, where would it be? In terms of venue, I've been lucky enough to play in many fabulous halls but I love, love, love the National Concert Hall here in Dublin. It's so unique, it has a beautiful natural acoustic and despite its capacity, still feels like an intimate setting to play in. In terms of playing situations, if I could wave a magic wand, I'd materialise in an L.A. recording studio, in a session for a Michael Giacchino soundtrack. What an exciting sound to be surrounded by!
What is your favourite thing about your career? The diversity. We get to play a really broad range of music in the Concert Orchestra, there's always something to look forward to. I also love teaching, it's a great feeling when you see students getting into the music and enjoying it.
What motivates you to work hard? Reminding myself that the goal is to give the audience the best experience possible, to hopefully provide some escapism and happiness. Also to do justice to what the composer wrote.
What makes you laugh the most? At the moment, First Dates Ireland is making me laugh a lot. The awkwardness is almost unbearable but it is very entertaining.
What would you sing at a Karaoke night? "On the Street Where you Live", the My Fair Lady or Nat King Cole version, they're both magical.
Would you rather win the Lotto or work at the perfect job? Why? Perfect job, I can be lazy and need a reason to get out of bed in the morning.
List two pet peeves Restaurants that play music too loud, I want to hear what my friends and family have to say during dinner! Biting my tongue, I don't do it often enough when I'm speaking but I have a talent for doing it when I'm eating!
9.What three things would you take with you to a desert island? An axe, so I could build a treehouse and  a harp (vegetation allowing), a wind-up radio in the hopes of tuning into Lyric fm or News at One with Dobbo and…a puppy!
If you ruled your own country, what would be the first law you would introduce? Free music lessons and access to an instruments for every child.
Geraldine will perform in the second concert of the Mozart Festival at Triskel on Saturday 3 April. Get your tickets now!