RESONATE at Triskel with David Power and collaborators
Posted on: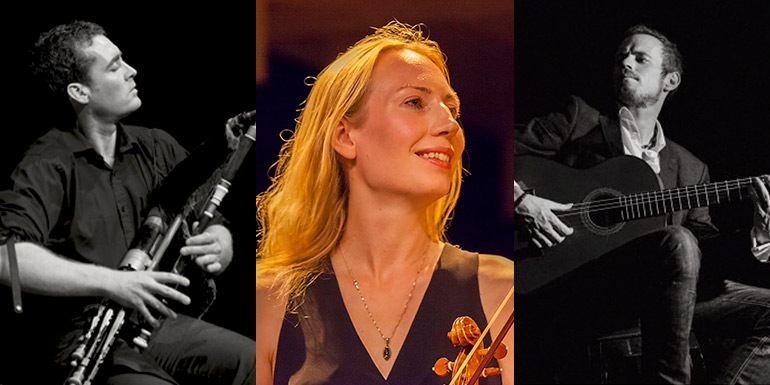 In July 2021, we announced that uilleann piper David Power was Triskel's RESONATE artist as part of Music Network's artist residency programme. Since then, David has been working closely with collaborators Finnish baroque violinist Marja Gaynor and Irish flamenco guitarist John Walsh to develop unique arrangements of music from the Irish, baroque and flamenco folk traditions for their combination of instruments. You can hear this skillful melding of musical traditions and styles here on Saturday 26 March at 8pm.
This concert is one of four finale performances by RESONATE artists that will take place this February and March. Showcasing exciting new work created during their residencies, audiences will have the opportunity to enjoy live performances by guitarist Eamon Sweeney at the National Opera House, Wexford; composer and improviser Philip Christie at Regional Cultural Centre, Letterkenny; and violinist Larissa O'Grady at The Dock, Carrick-On-Shannon. In addition, recordings of new material created during the residencies will be shared on Music Network's and each venue's social media channels from 4–9 April. For full concert details and tickets, visit www.musicnetwork.ie.
Sharon Rollston, CEO of Music Network commented: "We are delighted to present four unique performances by our RESONATE artists, marking the completion of their residencies in Wexford, Leitrim, Cork and Donegal. All of the musicians have delved deeply into their artistic practices during their time on RESONATE, and the results are a testament to the diversity and high quality of music on offer throughout Ireland. We are looking forward with great anticipation to their finale concerts and to the shorter online series to follow."
Guitarist Eamon Sweeney, soprano Róisín O'Grady and sean nós singer Cárthach Mac Craith aim to soothe audiences with their performance of lullabies from different eras and cultural traditions including baroque, renaissance, folk, and Irish, celebrating both their diversity and commonalities at The National Opera House, Wexford on 13 February at 8pm.
Composer and improviser Philip Christie (O Emperor, The Bonk) with collaborator Ronan Kealy (Junior Brother) will present brand new work created during their residency in the Sound Studio at Regional Cultural Centre, Letterkenny. These two leading contemporary musicians have delved into the world of medieval Irish mythology, the results of which will be debuted during their performance on 19 February.
Violinist Larissa O'Grady will enthrall audiences with a concert for solo violin which combines mixed-media sound with film, at 7pm on 26 March at The Dock, Carrick-On-Shannon. Inspired by American composer Michael Gordon's music for 3 violins, 'Tree-Oh', this project features the outstanding natural beauty of Lough Key Forest Park captured by filmmaker Néstor Romero Clemente, and a newly commissioned composition by Sam Perkin for solo violin and audio track, among other works by leading composers of contemporary classical music.
RESONATE artists Clare Sands and Emma Langford wowed audiences with their finale performances in glór, Ennis and Ionad Cultúrtha, Baile Bhúirne in November 2021. The full RESONATE online series will present video recordings of all six RESONATE artists' newly created material. Audiences can tune in via social media from 4–9 April.
Tickets are on sale now for David Power's RESONATE concert – click here to purchase.