Announced – Ripple Effect Night Markets
Posted on: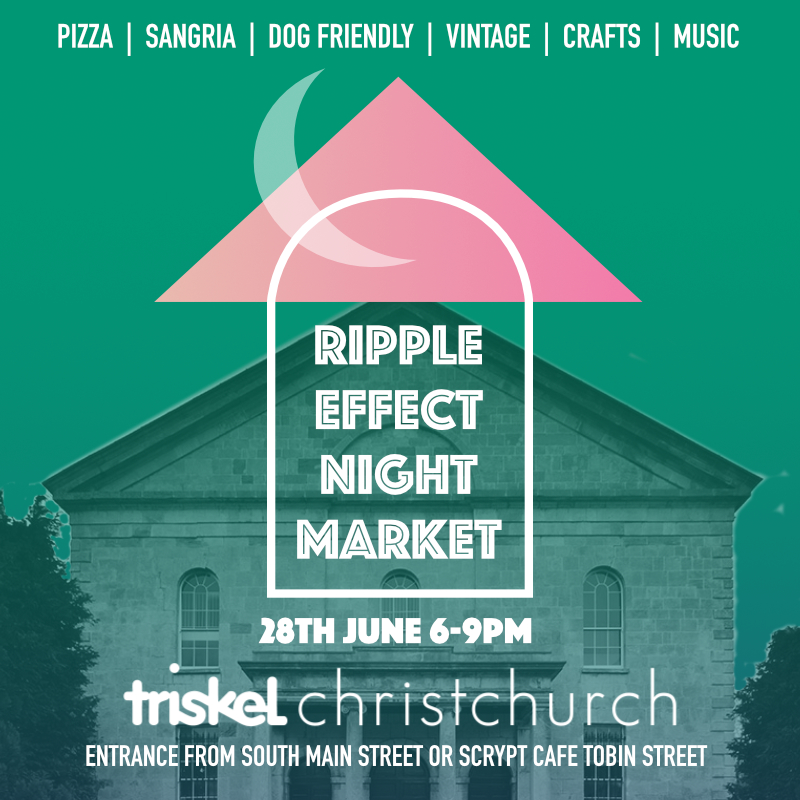 Join Triskel and Scrypt Cafe Bar for the Ripple Effect Night Market. Starting on Thursday 28 June 2018, the markets will have a combination of stalls of local crafts, foodies, vintage clothing and wellness as well as a doggie treats stand for the dog lovers.
"Ripple Effect is about bringing local traders, start-ups and like minded people together, once a month through good summer vibes in a great location within Cork City. If anyone is interested in joining the market, please contact rippleeffectcork@gmail.com," Lisa Hannigan, Market Organiser.
The markets will be on in Triskel Garden and Scrypt Cafe Bar one Thursday evening a month over the summer.
"The Triskel Garden is a fantastic space in the centre of the city and using it for such an event brings a great buzz to the building and allows the Triskel to share its historic space with the public. The Cafe will be open throughout the evening for refreshments and tasty nibbles to complement the market," Rose McKenna, Scrypt Cafe Bar.
Host: Scrypt Cafe Bar
Organisers: Grainne Darmody and Lisa Hannigan  of Ripple Effect Market
Dates: Thursday 28 June, Thursday 19 July, Thursday 2 August, Thursday 23 August, Thursday 6 September
Time: 6pm – 9pm