Triskel Gets To Know … Katelynn Cremin
Posted on: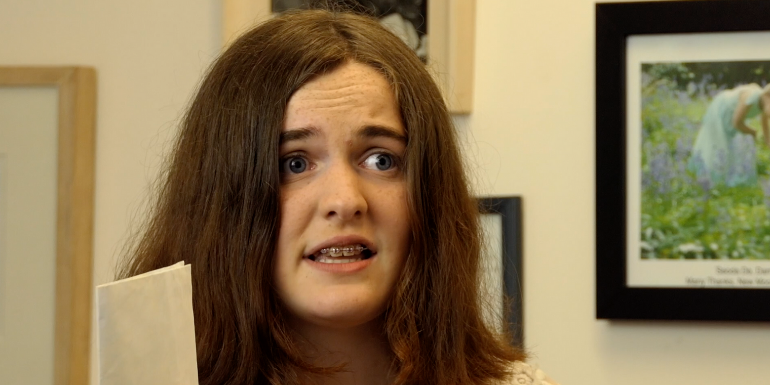 Katelynn Cremin is one of the young filmmakers involved in Future Crimes, which we will broadcast as part of this year's Cruinniú na nÓg on Saturday 12 June 2021. We got to know her a little better.
Name your top 3 inspirations in the film world e.g. directors, screenwriters, etc.
Tina Fey (Screenwriter/ Actress) – she is inspirational as she shows that women can be funny and eloquent. She also challenges norms in the film industry, such as her going to court to lower the age restrictive rating on the movie by highlighting the inequalities between her film and male counterpart movies (Anchorman).
Anne Hathaway (Actress) – her passion for acting shines through all her works. She goes to great depths to properly relate to each of her characters, hence making her characters more believable.
Tim Burton (Director) – his approach to films is very distinct and unique. He has established himself in such a way that his style is iconic in itself. This showed me that you don't need to follow the crowd to be great.
What are your top 3 films of all time?
Mulan – this movie at its core was about female empowerment something which I am very passionate about. It challenges social stereotypes that women are weak while showing how they are equal to men. It also shows the difference of treatment of others towards her when they discover her true identity.
Strictly Ballroom – this movie (which was directed by Baz Luhrmann) explores the trope of when the nerdy girl gets the guy. Luhrmann puts focus on both their difficult family backgrounds which both help and hinder the characters in their quest to become better dancers and individuals. This falls into one of my favourites as it is my favourite genre of movie (Romantic-Comedy) and incorporates a pastime of mine (dancing).
Mamma Mia! – this is a household movie musical classic. It is an overall feel-good movie complemented by an amazing soundtrack. It uses ABBA's music in a way that made sense with the movie plotline.
What three things would you take to a desert island?
Knife –  this could be used for protection, but also for hunting.
Box of Matches – for a fire to ensure that I don't die of hypothermia.
Satellite Phone – this is a phone that can be used anywhere as long as there is a clear line from the antenna to the sky.
What are your pet peeves? My biggest pet peeve is slow Wi-Fi. Like many others have discovered over the last year and a half, slow internet is an annoyance. When I was doing online school it became an issue during virtual live classes. The worst part about it is that I cannot do anything to help or fix it.
If you were a superhero, what powers would you have? I would love to have the power of telepathy, as if you are able to read minds you can create a counter-attack and quick, effective defense.
Who would you want to play you in a movie of your life? I like to think that Natalia Dyer would be most suited to play me based on physical attributes and I loved her acting in Stranger Things.
Do you collect anything? No, I don't.
Who was your favourite teacher in school and why? My favourite teacher in school would have to be my business teacher. He is relaxed and can have a laugh with me and my class. While having fun, we still get all our schoolwork done and he doesn't give us much homework.
Are you a clean or messy person? I like to describe my organizational system as organised chaos. To the outside viewer, it seems unruly and messy but I understand where everything is. I sometimes justify my mess as part of my creative process.
If you ruled your own country, what would be the first law you would introduce? The first law I would pass (apart from the obvious ban on murder and assault) would be an equality act that states that every citizen regardless of race, ethnicity, sexuality, gender identity, religious background, etc. will be treated equally and fairly.
Future Crimes will be available to watch on Triskel's YouTube channel from 2pm on Saturday 12 June.