Triskel Gets to Know … Fiona Kelly
Posted on: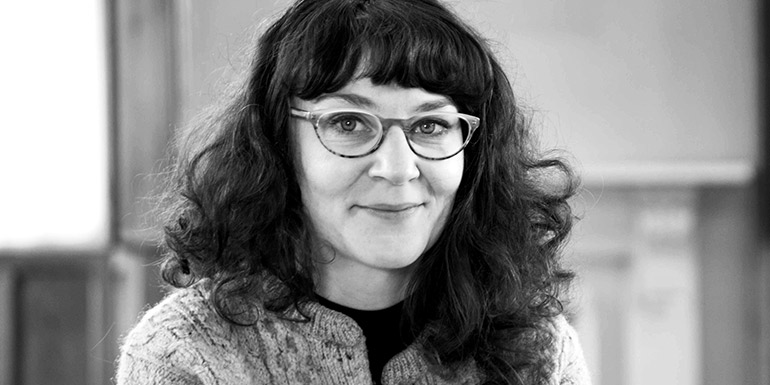 We love getting to know the artists whose work inhabits Triskel Gallery Space. We always learn something new. And after getting to know Fiona, we've added a few books to our list and we're humming a lot of ABBA!
What is your favourite cinema treat?
Wine Gums.
What is your go-to motivation music?
The ultimate motivation song for me is 'The Ecstasy of Gold' by Ennio Morricone.
What was your favourite book as a child? And now?
Roald Dahl, The Minpins illustrated by Patrick Benson.
Kurt Vonnegut perhaps Timequake or Breakfast of Champions.
I adore reading, always a book on the go in both fiction and theory, a few gems I really enjoyed recently are The Emigrants by W.G. Sebald; This Changes Everything: Capitalism vs. The Climate by Naomi Klein; Butchers Crossing by John Williams; The Heart Is a Lonely Hunter by Carson McCullers; Around the World in 80 Trees by Jonathan Drori and Pax by Sara Pennypacker.
How would your friends and family sum you up in three words?
Stubborn, dependable and sleepy.
Do you listen to podcasts? Any recommendations?
I do, I'm really trying to take Sundays off and I've come to realise that doing a jigsaw and listening to podcasts is the only way I'll sit down! For years Radiolab has been the absolute go-to podcast series for me. Recently I listened to Having a Bad Day? on The Ezra Klein Show which I really enjoyed.
Is there a band/artist you enjoy that you would describe as a 'guilty pleasure'?
Not really, people tend to cringe when I play ABBA, 'Lay all Your Love On Me' though. I don't know why?
What is the most memorable place your work has brought you?
I've been extremely lucky to have travelled a lot with my work, receiving numerous awarded Artist Residencies. Time spent in China and Finland have had the most lasting and influence on my practice and my person.
As a child, what did you want to be when you grew up?
An Artist, hence stubborn being the first of my personality descriptors!
Is there an artist whose work particularly inspires you?
So many, I am especially motivated by my peers, their gumption and talent is so dependable and encouraging, in this life being continuously creative is increasingly difficult.
The work of Ailbhe Ní Bhriain is tremendous, she effortlessly creates spaces where decay becomes so beautifully haunting. Her rigorous research into betweenness, is the absolute merging of dream and apocalypse, which for me perfectly resonates the now.
Every time I see her work, I am in complete awe.
Who are the three people at your dream dinner party? Why?
Peter, Teresa and Michael.
I am never good in formal situations, I can't imagine what I'd be like with one's heroes… to be honest, I'd probably faint!
Spending time with my partner and hilarious friends is far too rare, so, I'd choose them.
Overburden by Fiona Kelly is on display in Triskel Gallery Space until Sunday 29 March. On Saturday 22 February at 12pm, Fiona will be in conversation with curator Miguel Amado.