Triskel Gets to Know … Brigid Carmody
Posted on: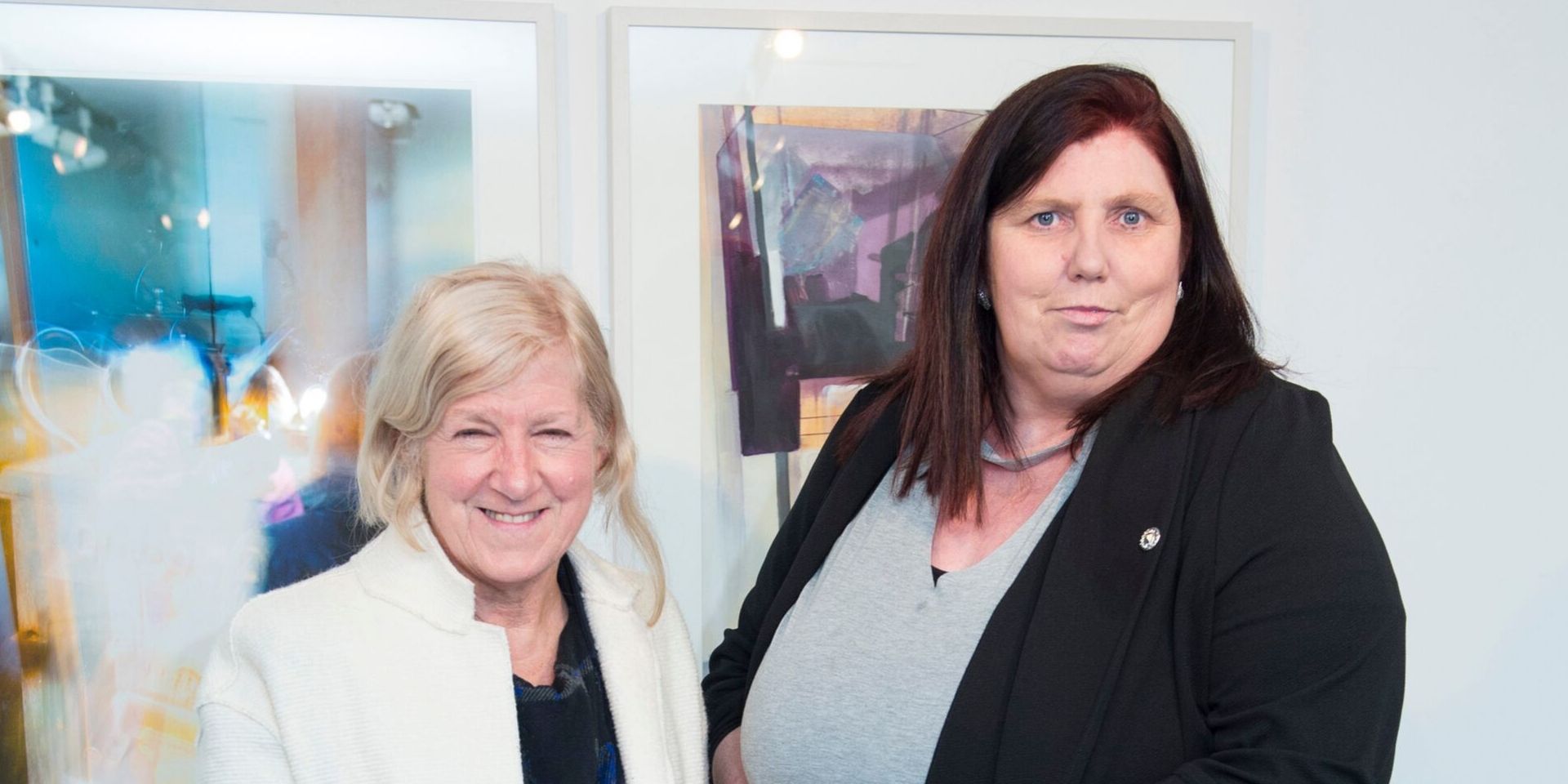 The Cork Traveller Women's Network made Triskel their headquarters in 2018 and we've loved working with them since and learning more about Traveller culture. We wanted to get to know them a bit better so we asked Brigid Carmody, CTWN co-ordinator, a few questions (she's on the right in the image along with Ann Luttrell of Triskel).
What is your favourite cinema treat?
Working with the Triskel Christchurch cinema to programme films around Traveller culture such as screening Float like a Butterfly for Cork Traveller Pride 2019 last summer.
What is your go-to motivation music?
I love traditional Traveller singers Sharyn Ward, Thomas McCarthy, Mary Francis Keenan and Finbarr Furey.
What was your favourite book as a child? And now?
As a child I could find very few books that I related to because I felt that my culture and my community were invisible in them. Now I love to share books like Paddy the Traveller Boy and Maggie Mays' Day with my young  nieces and nephews. I am also excited to hear that Traveller activist Oein de Bharduin has a book of Traveller folk tales coming out soon with Skein Press.
What is your most listened to radio station?
Any of them that are willing to give Travellers a fair hearing and treat us respectfully.
Do you listen to podcasts? Any recommendations?
No but RTE Player's series John Connors Travellers is a great short series exploring Traveller history.
Favourite hidden gem in Cork
Toraig on the Tobar, the Traveller culture exhibit in Cork Public Museum, is free to the public, has a full size barreltop wagon and is the only Traveller curated permanent exhibition on Traveller culture in a public museum in the country. I have been involved with this exhibition from day one so it's very close to my heart.
Is there a band/artist you enjoy that you would describe as a 'guilty pleasure'?
Gloria Gaynor's 'I Will Survive'.
Do you have a favourite movie soundtrack?
Ghost.
As a child, what did you want to be when you grew up?
When I was very young, I thought about being a teacher but as I got older and thought more about the situation of my community, it was very clear that I would become a Traveller rights activist.
Who are the three people at your dream dinner party? Why?
I would love to invite Nan Joyce, the first Traveller woman to run for election, Michael D Higgins, who has always been a great advocate for human rights and Traveller rights, and Martin Luther King to a dinner with the Traveller women activists of CTWN.