Triskel Christmas Market Celebrates Local Artists and Crafts
Posted on: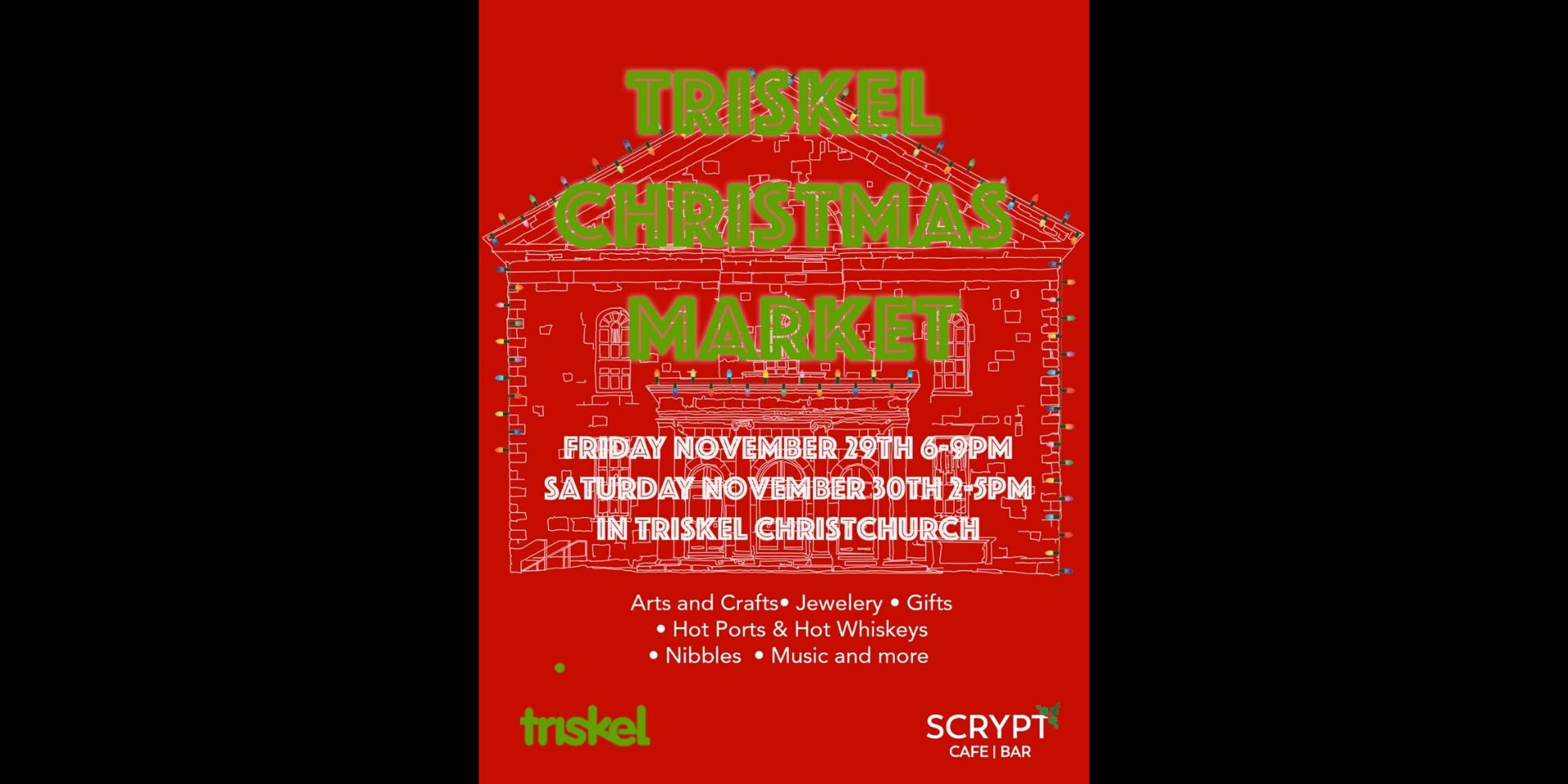 Scrypt Café Bar and Triskel are hosting a 2-day Christmas Craft Market on the weekend of 29 November to complement the opening of Glow in Bishop Lucey Park next door. The market will be on 6–9pm on Friday 29 November and 2–5pm on Saturday 30 November.
Triskel Christmas Market will showcase local artists and crafts people, including artists, jewellery makers, candle makers and a soap maker. There will also be plenty of handmade Christmas gift ideas, such as cushion covers, Christmas decorations, skincare products and trinkets galore, as well as local artisan food and hot drinks available.
"This is a great way to promote Green Friday, which is all about supporting local artists and craft makers on Black Friday, and pick up some different and interesting gifts for your loved ones," said Rose McKenna of Scrypt Café Bar. "What better way to spend a few hours on a weekend in the run up to Christmas than in a beautiful setting with a great Christmassy ambience with a hot port/whiskey/chocolate in hand and maybe even a few mince pies."
This is a family-friendly event but grown-ups might like to know that Scrypt Café will also be running a Cocktail Night in the adjoining bar where you can sip fancy cocktails till late.
Here are the vendors who'll be part of our Christmas Craft Market:
Live Our Values
Eco alternatives like vegan deodorant, bamboo tooth brush, punny bags and much more.
Arla Crafts
Handmade macramé plant hangers, dried flowers in frames & wood slice hand painted Christmas ornaments
Lucia Moreno Montero Illustration
Prints
Unseen Forces (Artist)
Small Prints and Christmas Cards
The Little Fox Den
Screen printed t shirts and jumpers, illustrations and repurposed vintage plates
Riona Skincare
Natural Skincare products
Remedy Roots
Natural Herbal Teas and Alternative latte drinks
Arboretum Studio
Pressed flowers and glass jewellery and decoupage
Luna Maille
Jewellery
Annie Forrester Art
Artwork Pieces 
Suds Johnson
Handmade Soaps
Bad Ass Cushions
Cushion Covers
Savana B Design
Seaglass Jewellery
Tom Herdmen
Artwork
John Seagram Candles
Natural Candles
Accidental Alterations
Handmade Characters
The Quiet Creative
Photography, Handmade cards
Kate McGuane Ceramics
Ceramics
Aluna Crafts
Handmade Jewellery
Anastasia Stepnova
37 Blackbirds Jewellery
Mauro Italian Food
Vegan Italian Inspired Dishes
Jennifer's Keepsakes
Kids Comforters, Fairy Gates Crochet Blankets, Kids hair bows
Orla's Oasis Flowers
Flower Creations for occasions!
More information from Scrypt's Instagram