Triskel & IMC Present Piece by Piece
Posted on: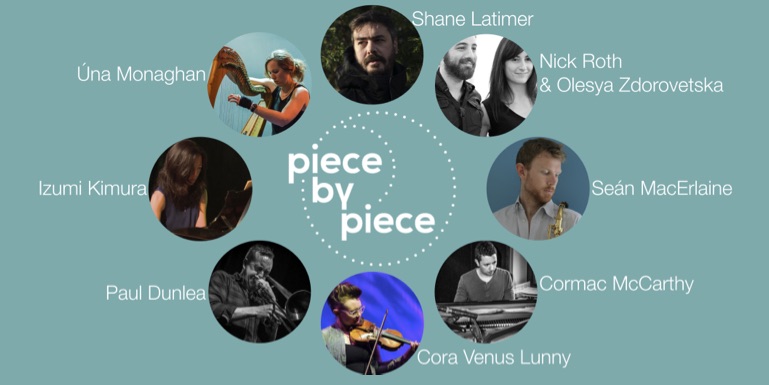 Triskel in association with Improvised Music Company presents
Piece by Piece
Triskel and IMC are coming together to host a weekly sequence of online solo performances featuring leading Irish improvisers beginning on Friday 10 April at 8pm.
Each artist's input performance will influence or inspire the next performance in this musical chain. Piece by piece, artists will create new improvised work, based on the preceding work. Improvising musicians are uniquely skilled at interpretation and spontaneous creation allowing for fresh creation of the highest calibre.
These eight sequential solo performances in the new 'Piece by Piece' series will bebroadcast via IMC's YouTube channel, as well as IMC's and Triskel's social media platforms on Fridays at 8pm, beginning on Friday 10 April with a 'live' solo performance from acclaimed guitarist and electronic improviser Shane Latimer.
Other artists commissioned in this series include woodwind instrumentalist, composer and producer Seán MacErlaine, world-class improvising pianist Izumi Kimura, virtuoso trombonist and composer Paul Dunlea, composer, pianist and arranger Cormac McCarthy, improvising violinist, violist and composer Cora Venus Lunny, harpist and sound artist Úna Monaghan, and a duo input from couple saxophonist/composer/producer Nick Roth and vocalist/composer Olesya Zdorovetska.
Enjoy fresh new music, influenced in real-time, from world-class Irish improvising musicians, telling the story of these strange times through new music and live performance, piece by piece.
Piece by Piece is an exciting new initiative from Triskel and IMC, which brings an entirely new meaning to the term 'online influencer'.
IMC and Triskel are committed to continuing to employ artists and engage audiences, particularly during these challenging times.
Friday 10 April: Shane Latimer – guitar/electronics (watch on Facebook | YouTube)
Friday 17 April: Nick Roth – saxophones & Olesya Zdorovetska – vocals (watch on Facebook | YouTube)
Friday 24 April: Seán MacErlaine – clarinet/reeds/electronics (watch on Facebook | YouTube)
Friday 1 May: Cormac McCarthy – piano (watch on Facebook | YouTube)
Friday 8 May: Cora Venus Lunny – violin/viola (watch on Facebook | YouTube)
Friday 15 May: Paul Dunlea – trombone (watch on Facebook | YouTube)
Friday 22 May: Izumi Kimura – piano (watch on Facebook | YouTube)
Friday 29 May: Úna Monaghan – harp (watch on Facebook | YouTube)
'Piece By Piece' is a new online initiative from Triskel and IMC to support and sustain the Irish artist community. Additionally, Triskel are hosting online classical music recitals, At Home with Triskel, as well as supporting various promotions by film distributors such as 606 Distribution who will give 10% of every rental of System Crasher to local cinemas, and arthouse film streaming website MUBI who have given Triskel Cinema Members a free 90-day subscription to their service. IMC are currently promoting online music lessons, promoting album releases in the place of live concerts as well as a number of useful career focused articles in their website's Resource section.
Connect with IMC on Facebook, Instagram, Twitter and YouTube
Connect with Triskel Arts Centre on Facebook, Instagram, Twitter and YouTube