Sonic Youth at Triskel for One Night Only
Posted on: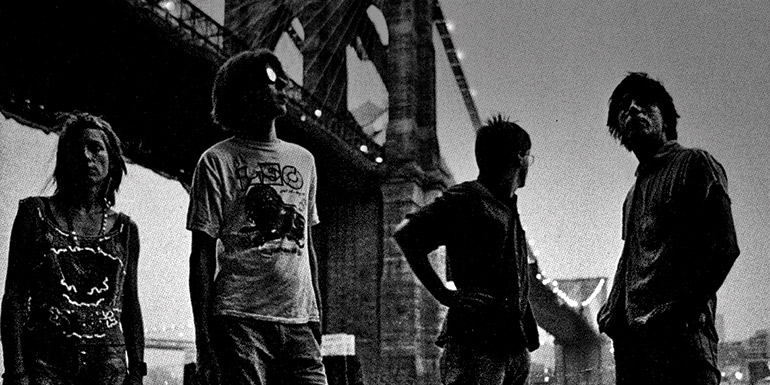 Triskel are delighted to welcome Sonic Youth drummer Steve Shelley to Cork on Friday 1 March for one night only. Shelley will be here with filmmaker Lance Bangs to celebrate the 30th anniversary of Daydream Nation, the band's much lauded sixth album. Shelley and Bangs will join a panel discussion on the evening which will include screenings of a selection of films related to Daydream Nation, such as excerpts from Bangs' new concert film, rare and unseen gems from the band's archive, and a new restoration of the Charles Atlas documentary Put Blood in the Music.
Tickets are on sale now.
---
Put Blood in the Music 1989 Dir. Charles Atlas (SY Edit)
Charles Atlas's first major recognition came for his work with Merce Cunningham as the company's filmmaker-in-residence from 1978–1983. From this pioneering work establishing the field of 'Dance for Camera", he went on to make the faux Cinema Verite Hail the New Puritan for BBC4 about the Scottish dancer Michael Clark, featuring music by Glenn Branca, Bruce Gilbert (of Wire), Jeffrey Hinton, and the Fall. Then Atlas was approached by the Irish writer David Donohue, asking him to do a movie about music in New York.
Put Blood in the Music is a unique documentary on the downtown New York music scene. In a collage of music, performance and commentary, Atlas captures the energy and pluralism that characterise this urban milieu. Reflecting the eclecticism of his subject, Atlas re-structures the conventional "talking head" format to allow a fragmented, fast-paced compendium of voices and sounds, ranging from music critic John Rockwell of The New York Times to street musicians. Focusing on such influential downtown figures as John Zorn, and featuring performances by Zorn, Sonic Youth, Hugo Largo and others, this is less a documentary than a cultural document, a vivid time capsule of the contemporary New York music scene.
CHARLES ATLAS: "This was really the first documentary that I made. For me, I'd done a lot of pieces for television, art pieces. And I knew about the downtown New York music scene, having worked with Merce Cunningham, John Cage and Rhys Chatham and also knowing Glenn Branca.
I really wanted it to be green screened and I really wanted to have New York backgrounds, but we didn't have time to go around shooting against New York backgrounds. So I had separate days to shoot New York backgrounds. I wanted to mix it up, and have it be really visually busy, like New York. A lot of people ended up copying the 'interviewees against green-screened backgrounds' idea.
I knew that I was editing it, I wasn't making it for someone else to edit. So I told the Director of Photography, 'It's too boring to have the talking heads static like normal. Just do whatever you want. Make it interesting'" and then I had to work with what he did.
I kind of wrote it by editing the clips of the people, which was something I then did in subsequent work. I've been criticised for not letting people speak the way they do in documentaries, with pauses. But I still had an American sensibility, even though I was working a lot in Europe, and I wanted things to change. I didn't want any dead air at all.
We thought of a lot of different people to feature in the documentary, but I really wanted to do people who I thought would do well as television personalities; who would talk about their work in an engaging way. In retrospect it's really quite star-studded, Hal Wilner and Karen Finley, in addition to the people already mentioned. It was really about downtown art, and the whole downtown music scene, and we just had to choose some people to represent that. I thought it was at a really critical moment for Sonic Youth. We went to great expense to record live performances, because I wouldn't dare ask them to mime to playback. But then shortly afterward they signed with Geffen and there they were…
It was also the moment before the band had really gotten their press image totally together. Thurston was already like a late-night talk show host, but when they went more mainstream they got that part of their stuff together more. So it was interesting, because it was quite real. And I was quite naïve, in that it was really only later that I realised how complicated band dynamics are."
---
Sonic Youth Archives
Steve Shelley: "Through the years and as the times changed we recorded our live shows as often as we could afford to on cassettes, dats, cdrs and when possible on multi-track recorders and videotape. We collected fan-generated audience tapes, shady bootlegs and anything we could get our hands on. We now maintain an archive of hundreds of hours of Sonic Youth concerts and we're starting to share some of our favourites (often from the best uncirculated source possible)."
---
Daydream Nation (film)
A special edit of this film will be screened as part of the 30 YEARS OF DAYDREAM NATION event.
Lance Bangs' new Sonic Youth concert film Daydream Nation presents the band performing the titular double album in Glasgow on August 21st and 22, 2007. Bangs blends HD footage shot in Glasgow with fragments of personal Super 8mm and 16mm from his archives of Sonic Youth over the decades.
Sonic Youth performed Daydream Nation in its entirety less than 20 times during a 2007 tour, often at festivals or outdoor venues. This document captures one of the few indoor club performances; a setting SY member Thurston Moore always claimed was the type of venue for which the songs were written. Glasgow had been a great city for the band's tours, and the live sets shown in the film received a 5 star review in The Guardian.
The joy of the band and the audience are a sight to behold; the band and the fans joined together in celebration of this landmark album (10/10 NME, 10/10 Spin Alternative Record Guide, 5 Stars in The Rolling Stone Album Guide, 10.0 in Pitchfork, A from Robert Christgau in The Village Voice).