RESONATE 2022 – open call!
Posted on: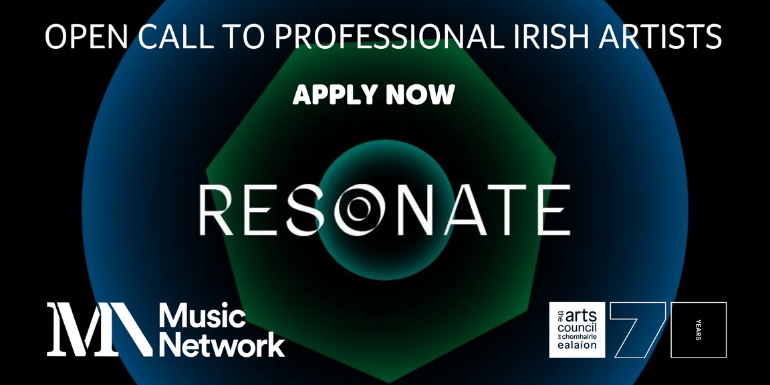 We are inviting professional musicians with a strong track record in music performance to apply for one of six new RESONATE: Music Network Artist Residencies presented in partnership with glór (Ennis), Ionad Cultúrtha (Baile Mhúirne), The National Opera House (Wexford), Triskel Arts Centre (Cork City), The Dock (Carrick-on-Shannon) and Regional Cultural Centre (Letterkenny).
This year's programme will provide a grant of €8,000 to each of the six appointed musicians to facilitate the creation of new work and creative partnerships. Audiences around the country will have opportunities to enjoy the new material created during each of the residencies through live concert performances and online content.
Commenting on the announcement, Music Network's CEO Sharon Rollston said: "Music Network is very pleased to be offering RESONATE together with our partners for a second consecutive year. RESONATE is the most extensive of our musician residency programmes, and will provide the selected musicians with the necessary time, space and income needed to develop exciting new work which will be premiered this Autumn."
Individual musicians with a strong track record in music performance, who are currently living in the Republic of Ireland, are invited to apply. Applications are welcome from musicians performing in a range of genres, either as solo artists or on behalf of existing groups or new collaborations. Cross-genre and cross-artform collaborations (with music as a core element) are also welcome.
Please note that the deadline for receipt of applications is 2pm, Thursday 12 May 2022.
To apply and for more information please visit https://www.musicnetwork.ie/whats-on/open-call-for-resonate-music-network-artist-residencies
Music Network is committed to equity and inclusion, and particularly welcomes applications from under-represented musicians, including but not limited to musicians of colour, musicians with disabilities, Traveller musicians and LGBTQ+ musicians.
Information webinar
Music Network will present a webinar on the RESONATE programme with a Q&A session on Wednesday 27 April at 11am.
Musicians wishing to attend this webinar can book a place here. Advance registration is essential. A recording of the webinar will also be made available on Music Network's website and social media channels from 28 April 2022.