Opening of Fragments of San Borondon by Kevin Mooney
Posted on: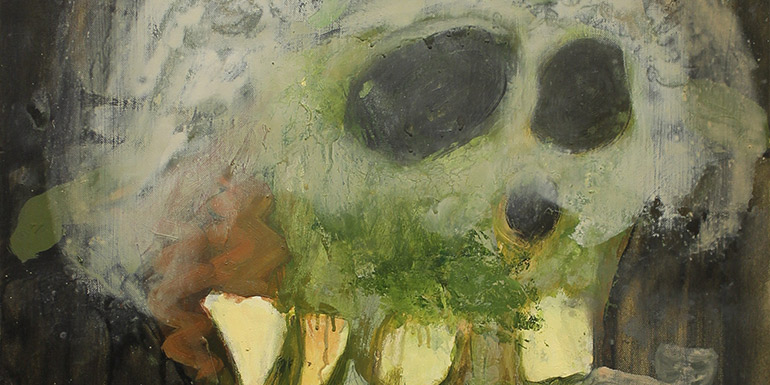 Kevin Mooney's new exhibition, Fragments of San Borondon, traverses boundaries between history and myth. His paintings and sculptures originate from his curiosity about the histories of migration of Irish people to Caribbean islands in the 17th and 18th centuries and also his interest in the culture making actions of migrants in general. Chosen as part of an Open Call by Triskel in 2018, the exhibition will open in Triskel's Gallery Space on Thursday 5 September at 6pm.
Fragmentary, historical and anarchic, these works challenge perceived notions of native folk cultures. The work flourishes in Mooney's broad reimagining of what it might mean to be a cultural emigrant. Rooted in his own migratory experience, this fantastical proposition of the imagined iconography of San Borondon becomes a kind of retrieval of a "lost" art history in the complex encounter between an emigrant and the native "other".
Mooney's materials are both established and fresh but he always plays with the notion of time. He continued, "I use clay, sticks, oil paint, rough jute, nails and varnish to echo the 17th century artists working across mainstream European, African and folk art idioms so as to connect with them, conceptually and idiomatically." Mooney's works appear both in this contemporary moment, and outside of time. Some appear aged and slightly broken down, as artefacts from an unknowable era. The works play with imagery and languages from historically and temporally disparate cultures, compressing time and history into the immediate space of the canvas or the sculpture. This immediacy and urgency brings an aliveness to the fore in Mooney's deeply felt and historically informed practice.
Drawing from the power of fetishes of indigenous art such as N'Kisi power figures and Mexican votive paintings, as well as John Hinde's postcards, Paul Henry's paintings, and Prehistoric Stone Art from Newgrange or Loughcrew, Mooney reveals to us his own new language of filtrated influence and urgent response to his own experience of the living world. This exhibition traces his personal trawl through cultural memory. By mapping and re-tracking his route through loss, retrieval and renewal, in this exhibition he reclaims his own cultural migratory past, and re-imagines an iconographic future.
Fragments of San Borondon by Kevin Mooney is on display in Triskel Gallery Space from 5 September – 31 October 2019.