Sun 1 Oct 2023
8:00pm
|
€21
|
Get 15% off when you purchase a ticket for each of the five concerts!
Sun 1 Oct 2023
8:00pm
|
€21
|
Get 15% off when you purchase a ticket for each of the five concerts!
The Diarmuidín Songbook is a special night celebrating the rich tradition of Múscraí songs sung by Diarmuid Ó Súilleabháin. Diarmuidín was a renowned sean nós singer and broadcast journalist from Cúil Aodha.  He died in a car accident in 1991, and a posthumous album of sean nós songs, Bruach na Carraige Báine, was released in 1995 and rereleased with new recordings in 2022 under the name Diarmuidín. Since his tragic death a music and singing festival, Éigse Dhiarmuid Uí Shúilleabháin, was setup in his honour and has been running every year in the Cúil Aodha and Baile Mhúirne area in the Muskerry Gaeltacht. Diarmuidín featured in many of the early Cork Folk Festivals from 1979–1990.
This concert, The Diarmuidín Songbook will include many of the songs Diarmuidín was famous for: 'Bruach na Carraige Báine', 'Aisling Gheal', 'Marysheen Went to Bonán', 'Carraig Aonair', 'My Pup Came Home From Claedach', 'Baile Mhúirne' and 'Glanlea'. Singers at the concert will include Diarmuidín's two brothers Danny Maidhcí & Eoiní Ó Súilleabháin and Seán (Johnny) Ó Liatháin who all sing with Cór Chúil Aodha; Múscraí-based Máire Ní Chéileachair who was awarded the highly acclaimed Corn Uí Riada at Oireachtas na Gaeilge and TG4 singer of the year in 2018; Nell Ní Chróinín, who was the youngest ever recipient to receive TG4's Gradam Ceoil Traditional Singer of the Year and the Corn Uí Riada award in 2014. She is currently singer in the well-renowned traditional band, Danú; Four Star Trio with Con Ó Drisceoil (song & accordion), Johnny McCarthy (flute & fiddle), Pat Ahern (guitar) will also feature. This trio have a residency in the Corner House Bar every Thursday and two albums under their belt, Magnetic South and The Square Triangle. The MC for the night is broadcaster and uilleann piper Peter Browne.
Cork Folk Festival 2023
The Cork Folk Festival is gearing up for its 44th edition this autumn and will pack in nearly forty events from Wednesday 27 September to Sunday 1 October, including five concerts at Triskel featuring some of the best traditional, sean nós and folk musicians from Ireland and abroad. These concerts will be very special experiences for artists and audiences alike as they bring the best in musical storytelling to Cork.
Get 15% off when you purchase a ticket for each of the five concerts!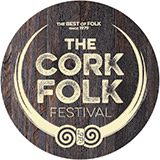 Book Tickets