Triskel Gets To Know … Stephen Dunne
Posted on: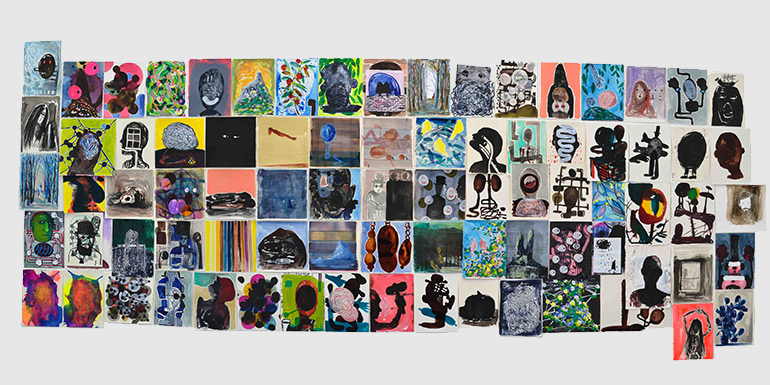 Stephen Dunne's latest exhibition Shackled to Belligerent Ghosts opens in Triskel Gallery Space on Thursday 4 April and we got to know him a bit better.
What is your most listened to radio station?
We've just had twins in December, all we hear is radio ga ga radio goo goo. Failing that, Resonance FM, (Adventures in Music & Sound).
Tea or coffee?
Double espresso please. Black, no sugar.
Were you interested in art as a child?
Yes, always drawing, staying in touch with that freedom and curiosity is a central aspect of what I try to do. I suppose things like 2000ad were a formative influence, children's illustration, folk tales and fable remain key elements I return to within the work.
Do you listen to music while you create art?
The studio booms and thuds, creaks and drones, howls and screeches. There's always something on, I'm interested in genre and subgenre. The sounds filter in and are compressed in the paper. A lot of the work is completed very quickly, intensity is important and I try to trap things in the paint. The various psychic energies in the room at the moment of making something hopefully resonate outwards later.
What is the most memorable place your work has brought you?
I'm interested in fictional worlds, fictional time, the work will take you away. It's a vehicle for accelerating into the subconscious, both mine and the viewer's.
How would your friends and family sum you up in three words?
Infinite wishes please.
Is there an artist whose work particularly inspires you?
In the last few years I've collaborated with Alex Tucker & Daniel O' Sullivan of Grumbling Fur, Mark Titchner and John Strutton, they're an inspiring bunch. I'm heavily influenced by writers, Thomas Pynchon, William Gaddis, Roberto Bolano almost everything published by Fitzcarraldo. A few years ago my brother and I travelled around Italy on the Piero Della Francesca trail, something I never imagined would be possible. As a method I use influence and inspiration as raw material to be fed through the machinery of my subconscious. The work is filled to bursting with other voices, techniques and processes. Each piece is potentially a pandora's box of reference, allusion and cultural dredging. Films, TV, novels and news are the latent currency of the work.
What is your proudest achievement to date?
Still doing it, making things and putting them into the world.
When you're not working, what do you enjoy doing?
Changing nappies and picking things up.
What's your favourite cinema snack?
Eyeballs.
Stephen's exhibition runs until 31 May.