Q&A with Director & Crew of The Camino Voyage
Posted on: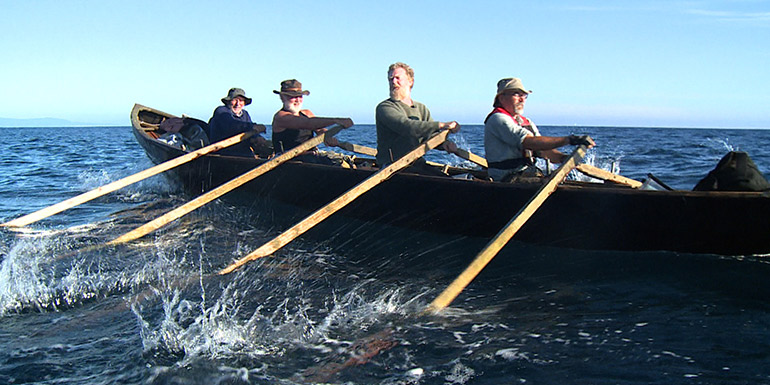 Dónal Ó Céilleachair and members of the crew will be in Triskel for a Q&A on Tuesday 4 December. Dónal is an Irish Filmmaker who lives between New York & Ireland. Dónal's wide-ranging international experience – from across the independent film landscape – includes over 50 fiction, documentary and experimental films in a diversity of roles for cinema, broadcast and gallery exhibition over the past 26 years.
Here's what Dónal had to say about The Camino Voyage:
"West Kerry has a legendary reputation for its culture, storytelling, music, visual art and for a deep connection with the landscape that inspires both visitors and locals alike and each of these characteristics are well represented by the crew of the Naomhóg na Tinte (The Naomhóg of the Tents).
When the Naomhóg left Ireland in 2014 on this historic 2,500km modern day Celtic Odyssey not everyone believed that such an epic voyage was possible but through sheer perseverance and an uplifting freedom of spirit that is so emblematic of all that is inspiring in Irish culture the crew overcame Herculean tasks and challenges to finally reach Santiago de Compostela 3 years later.
These men follow in the wake of the many adventurers who went before them including adventurers like Tim Severin. His brave, historical and visionary 'Brendan Voyage' still inspires 40 years after it took place and points to the importance of preserving and celebrating inspiring stories like these for present and future generations.
With over 200 hours of footage shot over the 3 years of the odyssey this film has been 4 years in the making and has come with its own obstacles and challenges; but the great lessons of the Camino can become the great lessons of life for those willing or able to listen and to hear. The tragic loss of Danny in 2017 only reminds us of the preciousness of this short time we have on this unique planet of ours and we would do well to take inspiration from his generous heart and adventurous spirit. Ar dheis Dé go raibh a anam dílis.
I consider it a great privilege to have accompanied this eclectic crew on their historic voyage and if the film manages to do some justice to this great modern day odyssey, and to the memory of this larger than life man from Baile Eaglaise, it will have accomplished something."
Dónal Ó Céilleachair, Caiseal na Rí, Mí Eanáir, 2018