Announced: Legendary folk singer Jim Page performs at Triskel
Posted on: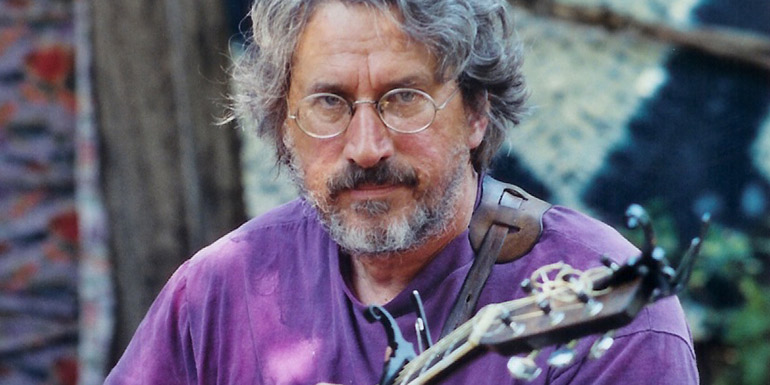 The last folk club in Seattle closed soon after Jim Page arrived and he made the whole town his stage. Wherever there were people he would play: the streets, the college campus, the bus station, the bars, and at the city council meetings. One day he walked into the TV station and said "I've got a song you should put on the news," and they did. Jim would play the streets, the campus, the cocktail bars, and the rock and roll clubs from 11am in the morning to 2am the next morning, with time out for travelling across town, often playing 5 clubs a night. In 1974, after being threatened with arrest, Jim took on the Seattle city government and legalised street performing. It was a landmark case and Seattle is now a famous city for buskers of all styles.
In 1975 Jim recorded his first album of original music, a vinyl LP called A Shot Of The Usual", released on his own label. Two other albums followed in rapid succession.
In 1977 Jim journeyed to the UK and performed at the Cambridge Folk Festival. The response was instant and overwhelming and he walked away with a feature in the national music press, two booking agents, and a European tour for the next year. He was off and running and spent the next 6 years almost constantly on the road. He recorded two albums for a Swedish label called Nacksving and one for WEA Ireland.
It was in Ireland that Christy Moore first heard Jim's song "Hiroshima Nagasaki Russian Roulette" and made it a permanent part of his repertoire. When Christy formed the great Irish band Moving Hearts, "Hiroshima" was their first single and a centerpiece to their shows.
Jim returned to the States in 1983 and began re-establishing himself as a solo artist and as a player in the northwest music scene. He experimented with duos, trios and more. In 1985 he recorded an album in Portland produced by the great Irish musician Micheal O Domhnaill.

Back in Seattle, he began to experiment with electric music. The legendary band Zero Tolerance was created in 1988, named after George Bush's draconian anti-drug campaign. It was a four-piece rock-and-roll band with the exception that the music was focused on the songs and not on the dance. They made one recording and broke up, as rock bands often do, leading Jim to more experimentation, this time with the internationally famous spoon player Artis the Spoonman who was himself the subject of a Grammy award winning song by Seattle grunge rockers Soundgarden. It's a small musical world.

Fast forward to the 21st century and Jim is busy with multiple projects in simultaneous array – constant solo performance, plus various ensemble configurations,leading to more albums. Jim was one of the founders of the Pike Market Performers Guild, Seattle's first street performers union. They organised and ran the first and only Busker Festival to be operated entirely by buskers, and he again petitioned the City Council, this time to create Buskers Week. Another Seattle first!
In 2005, Jim was invited to Taiwan for the first time, and again that next year. In 2007 Jim was included in an all-star cast of the "50 most Influential Musicians In Seattle History", a position shared with Jimi Hendrix and Nirvana.
To date, Jim's songs have been covered by The Doobie Brothers, Christy Moore, Moving Hearts, Dick Gaughan, Roy Bailey, David Soul,Leftover Salmon, and Michael Hedges.
He has received awards from Artist Trust and Jack Straw Productions. His music has been included on many compilations, including the Grammy-nominated Best Of Broadside.
Jim continues to write and to perform and to experiment with form and ensemble, and his songs continue to be pertinent and expressive of our times. To quote the late Utah Phillips: "If you're ever going to get the message, this is the messenger to get it from."

Jim Page is appearing in Triskel Christchurch on Thursday 7 February 2019