Cork World Book Fest 2019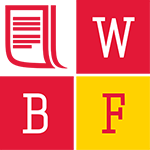 The Cork World Book Fest turns 15 this year and the programme is more exciting than ever. The Fest runs over five days from 23–27 April, with workshops, readings, family friendly events, a book market and more all taking place between Triskel, Grand Parade and the City Library.
We look forward to welcoming writers from China, the U.S., Russia, Norway, Italy, Catalonia and the U.K. Featured writers include Tess Gallagher, Kit de Waal, Salley Vickers, Nuala Ni Chonchuir, Louis de Paor, John Boyne and Harry Clifton.