Sat 23 Sep 2023
8:00pm
|
€19/17
|
Sat 23 Sep 2023
8:00pm
|
€19/17
|
Open your mind and see the world through the eyes of our digital natives.
An extraordinary multi-media composition for sound and video by the amazing force of nature that is vocalist, improviser and composer Jennifer Walshe.
Imagine a place where a phone tower is planted next to a holy well, where Facebook employees at the Clonee data centre tend beehives in a nod to medieval monks, and where the hexagonal shapes of the basalt columns at the Giant's Causeway are echoed in the solar cells of the James Webb Telescope peering into deepest space as the Leviathan once did. No need to imagine it, we are living it.
Developed by Walshe and her ensemble with the help of secondary school students from across the country, this new performance will draw on their experience of growing up in a world mediated by technology. They will explore and create sounds using instrumental, vocal and computer improvisation techniques which will be incorporated into the performance and the students will join Walshe and her ensemble on stage to perform some of their co-created material.
Together they will take us on a musical journey that reflects on our technological past while inspiring us to dream of the futures they would like to construct.
Music Network is Ireland's national music touring and development organisation, founded by the Arts Council in 1986. We make high quality live music accessible to communities throughout Ireland and help musicians to develop fulfilling careers, bringing musicians and listeners together through the magic of live performance.
ABOUT THE ARTISTS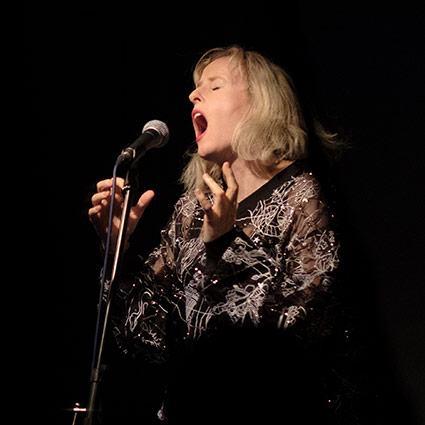 Jennifer Walshe
Composer & vocalist
"The most original compositional voice to emerge from Ireland in the past 20 years" (The Irish Times) and "Wild girl of Darmstadt" (Frankfurter Rundschau), composer and performer Jennifer Walshe was born in Dublin, Ireland. Her music has been commissioned, broadcast and performed all over the world. She has been the recipient of fellowships and prizes from the Foundation for Contemporary Arts, New York, the DAAD Berliner Künstlerprogramm, the Internationales Musikinstitut, Darmstadt and Akademie Schloss Solitude among others.
Recent projects include TIME TIME TIME, an opera written in collaboration with the philosopher Timothy Morton, and THE SITE OF AN INVESTIGATION, a 30-minute epic for Walshe's voice and orchestra, commissioned by the National Symphony Orchestra of Ireland and recently performed at the Royal Albert Hall with the BBC Scottish Symphony Orchestra with Walshe as soloist for BBC Proms. Late Anthology of Early Music Vol. 1: Ancient to Renaissance, her third solo album, was released on Tetbind in 2020. The album uses AI to rework canonical works from early Western music history. A Late Anthology was chosen as an album of the year in The Irish Times, The Wire and The Quietus. Walshe is Professor of Composition at the University of Oxford.
"Jennifer Walshe's off-the-wall requiem The Site of an Investigation was a hugely impressive existential study burnished with brilliant solos." The Guardian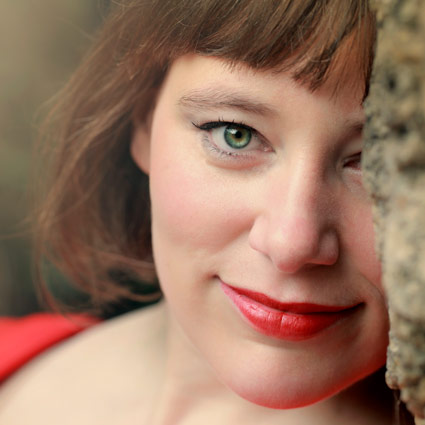 Elizabeth Hillard
Soprano
Irish Soprano Elizabeth Hilliard is widely regarded as an imaginative and dramatic interpreter of new music. She works in close collaboration with composers including Gráinne Mulvey, Jennifer Walshe, Christopher Fox, Evangelia Rigaki and David Bremner and champions Irish art, music and composers, achieving recognition in the USA and UK as well as in her native country.
Recent projects include Great Women: a 25-minute work for soprano and fixed tape by Gráinne Mulvey, featuring words by Countess Markievicz and Rosie Hackett as well as the recordings of inauguration speeches of President Mary Robinson and President Mary McAleese, Crushbar: a collaboration with visual artist Louise Manifold, composer Evangelia Rigaki and percussionist Richard O'Donnell, Pomegranate: a long duration installation by Evangelia Rigaki with text by Marina Carr, and Slow Recognition: an experimental opera by David Bremner, directed by Helène Montague.
Performances in 2022 included: Ulysses 2022 a tour with guitarist Katalin Koltai to The Mac, Belfast, The Hugh Lane Gallery Dublin, Budapest Music Centre and Centre Culturel Irlandais, Paris; a tour with Evlana Ensemble to The Hugh Lane Gallery, Linenhall Arts Centre and The Dock; a performance at SARC Belfast with Hard Rain Soloists Ensemble; a performance as part of the NCH Chamber Music series with the Degani Piano Trio; a performance at The Dock to mark the end of her and Gráinne Mulvey's Resonate Residency there in association with Music Network. In 2021, Elizabeth presented How The World Begins Again, a short feature series for RTÉ lyric fm on women composers and sound artists from Ireland.
"Elizabeth Hilliard delivers an astonishing performance of Gráinne Mulvey's intense and impassioned song of praise for Irish women."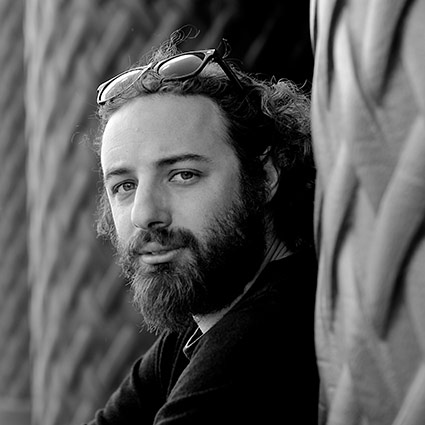 Nick Roth
Saxophones
Nick Roth's work seeks the liberation of improvisation from composition, the poetic syntax of philosophical enquiry, and the function of music as translative epistemology. A curious predisposition and a steadfast refusal to accept the existence of boundaries between the real and the imaginary has led to collaborations with an array of international performers, composers, choreographers, visual artists, poets, sculptors, directors, festivals and ensembles.
Often engaging in conversation with scientists from such diverse fields as mathematical biology, astrophysics, forest canopy ecology, orchidology, quantum loop gravity or hydrology, Nick's work is an investigation into how we can come to know through the art of music. Simultaneously subsumed by an insatiable appetite for literature, many of his compositions explore the symbiotic resonance of language as sound and symbol.
Nick is artistic director of the Yurodny Ensemble, a founding member of the Water Project, co-director of Unreal Cities, and a partner at Diatribe Records, Ireland's leading independent record label for new music. He has served as artist-in-residence at institutions including the European Space Agency (ESTEC), California Academy of Sciences (CalAcademy), dlr LexIcon, Centre Culturel Irlandais, Paris (CCI), and the Irish Museum of Modern Art (IMMA).
"Music sans frontières…exhilarating perfection."  The Journal of Music [on Roth's Yurodny]
Panos Ghikas
Multi-instrumentalist and electronics
Born in Athens, Panos Ghikas is a London-based composer, improviser and producer. His output encompasses concert music, live and studio improvisation, interdisciplinary collaborations in digital media, film music and pop production. He is a member of surrealist post-pop band The Chap (7 albums, over 400 performances internationally since 2000) and runs Migro Records (est. 2011), a label that releases work that falls into the intersection between composition and free improvisation.
Panos performs and releases with composer-improviser Jennifer Walshe and performs violin, viola and electronics solo, duo and in groups, including Friendo, Bohman Brothers Extended Family and Azoman. His work features in over 60 releases (Universal, EMI, Lo Recordings (UK), Ghostly International (US), Staatsakt (DE) and Diatribe (IE)) and has been performed and broadcast internationally. His acoustic and hybrid compositions have received performances in the UK, Germany, Belgium, Greece and Mexico, by performers including the Arditti Quartet, Ensemble Exposé, the Kreutzer Quartet, Christopher Redgate, Peter Sheppard-Skaerved, Nick Roth, Luis Tabuenca, Pavlos Antoniadis and Rocío Bolaños.
Since 2012, Panos has developed the Unrealtime improvisation concept, a practice-based research project that has received support from UK and internationally based institutions. It focuses on the development of a live performance interface for navigation through audio-timelines with the purpose of re-sequencing audio gestures. Panos Ghikas is Senior Lecturer in Music at Canterbury Christ Church University and Course Director for the BA Creative Music Production and Technology.
"Delicate minimalism and jagged abstraction…unreal stuff." All about Jazz [on Ghikas' album Unrealtime]
---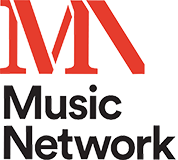 Book Tickets