Sat 30 Sep 2023
8:00pm
|
€26
|
Get 15% off when you purchase a ticket for each of the five concerts!
Sat 30 Sep 2023
8:00pm
|
€26
|
Get 15% off when you purchase a ticket for each of the five concerts!
Martin Carthy MBE (born 21 May 1941) is an English folk singer and guitarist who has remained one of the most influential figures in British Traditional Music, inspiring contemporaries such as Bob Dylan  and Paul Simon and later artists such as Richard Thompson , since he emerged as a young musician in the early days of the folk revival  in the UK during the 1960s and 1970s.
Martin is a mostly solo performer of traditional songs in a very distinctive style, accompanying himself on his Martin 000-18 acoustic guitar; his style is marked by the use of alternative tunings (notably CGCDGA), and a strongly percussive picking style that emphasises the melody.
He has also been involved with many musical collaborations. He has sung with The Watersons since 1972; was twice a member of the group Steeleye Span and was also a member of The Imagined Village for all three of their albums (2007–2012).
For many years Carthy enjoyed a creative partnership with fiddle player Dave Swarbrick ; more recently, Waterson:Carthy has provided the forum for his successful musical partnership with wife Norma Waterson  and their daughter Eliza Carthy.
"Martin Carthy on English folk music: "I'm not interested in heritage – this stuff is alive." English Folk musician Martin Carthy
Jackie Daly and Matt Cranitch are acknowledged masters of the rich musical tradition of Sliabh Luachra in the southwest of Ireland. This culturally unique area on the Cork/Kerry border is renowned for its distinctive style of playing and special repertoire of tunes, and has been for many years a source of inspiration for both Jackie and Matt. In both their performances and on their recordings, they draw upon this rich legacy.
"Matt and Jackie are the benchmark of the current generation of Sliabh Luachra musicians. … This is the definitive voice of Sliabh Luachra in our generation." Sally Sommers Smith, Irish Music Magazine
Jackie and Matt have performed throughout the world, individually and with groups who have set the standard for Irish traditional music. They have established enviable personal reputations. Their playing together, on CD and in live performances, displays not only virtuosity, but their respect, love and deep understanding of this vibrant musical tradition.
"It's a rare thing how easily and naturally Daly and Cranitch's music articulates together, and through it one can sense the rare reverence they not only have for each other, but for the shared tradition they represent." Dan Neely, Irish Echo, NY
Cork Folk Festival 2023
The Cork Folk Festival is gearing up for its 44th edition this autumn and will pack in nearly forty events from Wednesday 27 September to Sunday 1 October, including five concerts at Triskel featuring some of the best traditional, sean nós and folk musicians from Ireland and abroad. These concerts will be very special experiences for artists and audiences alike as they bring the best in musical storytelling to Cork.
Get 15% off when you purchase a ticket for each of the five concerts!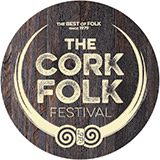 Book Tickets