ANNOUNCED: Max Zaska Selected for WRITE RECORD PERFORM residency with Improvised Music Company
Posted on: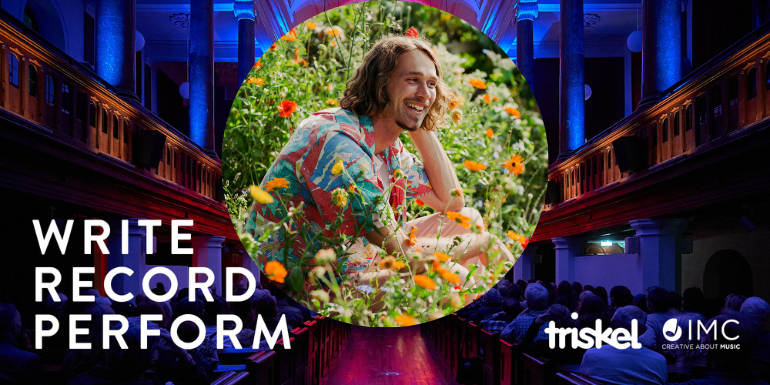 Triskel, along with our partners the Improvised Music Company, are delighted to announce the winner of our WRITE RECORD PERFORM, a programme which allows a professional musician working in jazz or creative improvised music dedicated time, space and budget to develop a new musical concept in a holistic way. 
After an extensive application process, guitarist and composer Max Zaska has been selected as the winner of WRITE RECORD PERFORM in 2023. 
With a budget of up to €10,000 for the project, the artist will also have physical space to develop work at Triskel in Cork and at IMC's new home for jazz The Cooler @ The Complex in Dublin. Mentorship and guidance will also be available for the artist from Triskel and IMC.
Max said; "I'm absolutely delighted to be chosen for the WRITE RECORD PERFORM residency programme. The work that will come out of this programme will not only benefit me, but 4 other songwriters in collaboration. The new music we create, record, and perform will have a long-lasting effect on all of our careers as artists. My deepest thanks to IMC and Triskel Arts Centre for your support. I'm excited to be returning to Cork and am buzzing to perform in Triskel Christchurch."
Max Zaska is a guitarist, songwriter, musical director, and producer best known for his feel-good blend of modern funk, neo-soul, and indie jazz. With his band, ZASKA, Max brings his original songs to life through collaborations with many of Ireland's rising stars, beginning with his first vocalist, Hozier. His critically acclaimed debut album, It Takes A Village, features over 25 performers including Wyvern Lingo and Loah.
Max co-produced ZASKA's second album, A Better Way, which was released in 2022 and featured vocalists such as Tolü Makay, Faye O'Rourke (Soda Blonde), Melina Malone, Jess Kav, and Precious Okpaje (Super Silly). 
Through the support of WRITE RECORD PERFORM Max Zaska intends to collaborate with four vocalists to create a body of work that will be performed live with a full band at Triskel Arts Centre in September 2023 (date tbc) and recorded for future release in both audio and video. The vocalists involved in the project are Gemma Dunleavy, Shiv, Melina Malone, and JarJarJr. Stylistically, the music is grounded in jazz, and blended with R&B, hip-hop, and pop to create exciting new work rooted in the energy of live performance and collaboration. 
Artistic Director of Improvised Music Company Kenneth Killeen said, "Delighted for Max Zaska to be chosen for the 2023 edition of WRITE RECORD PERFORM in partnership with Triskel Arts Centre. The calibre of applications across the board was extremely high. However, Zaska's clear vision for this project coupled with a sound rationale, which included strong collaborative elements, were ultimately the best fit. We wish him and the band the best with their WRITE RECORD PERFORM journey and look forward to the premiere of the work in the Autumn."
In the Irish improvised music scene, pressing issues are apparent around space to develop and create new work. The role of the arts centre as a developmental, creative and performance space is a huge one, and WRITE RECORD PERFORM is just one way in which Triskel and IMC are working to address these issues. The divisions between creating, performing, and recording music which are created by current public funding structures can also pose problems to musicians in developing their work to its fullest potential. In improvised music, the creation and performance of music are often simultaneous, and can't be easily distinguished. The WRITE RECORD PERFORM structure takes into account the totality of a musical work, and allows it space to breathe and develop.
Tony Sheehan, Director of Triskel said, "Our objective with WRITE RECORD PERFORM is to accompany artists on their journey from creation to recording and finally the staging of their work. Both Triskel and IMC are looking forward to working with Max Zaska in what will be a particularly dynamic and focused journey, and we are certain that the availability of both the Cooler with its excellent rehearsal facilities and the sublime Stage that is Triskel Christchurch will combine to produce an unforgettable collaborative experience."
Follow Max's WRITE RECORD PERFORM journey via his Instagram and look forward to the live recording in Cork this September at Triskel!