Cinema Info

Experience the best in Independent and world film in a fully digital cinema based in the unique surroundings of a stunningly refurbished 1700s neo-classical Church. Triskel screens two titles each week with additional special events, film strands such as Experimental Film, Horror and monthly Shorts. In addition you can enjoy barista coffee, home baking and bar menu from onsite café.

Tickets & Pricing
Ticket prices before 6pm:
Full: €6.00
With Annual Membership: €5.00
Child (under 14): €5.00
Ticket prices 6pm and after:
Full: €9.00
With Annual Membership: €7.00
Child (under 14): €7.00
No booking fees on counter, phone or internet ticket sales.
Films marked "NC" (Not Certified) have not been classified by the Irish Film Classification Office.
They require a Triskel Christchurch Cinema Membership, which may be purchased on a per film basis (50c per person) or on an annual basis.
Find out more info on membership >>
Cinema Membership
Full Triskel Christchurch Cinema Membership is a must for film lovers.
Members benefits include reduced standard ticket prices; A free screening after every eight attended; No fees on non-cert titles; Invitation to special screenings and events; Exclusive membership correspondence. You can also treat one guest per screening to your membership rates.
Terms and conditions: Card is valid for 12 months from date of purchase. Titles, times, dates and prices subject to change. Management reserves the right to refuse admission. Membership is non-transferrable Presentation of membership card and valid ID needed to purchase tickets and enter auditorium. Use of recording devices is forbidden. Membership prices does not extend to satellite broadcasting events. Membership price can be extended to one guest per screening. One free ticket earned for every eight

Download Brochure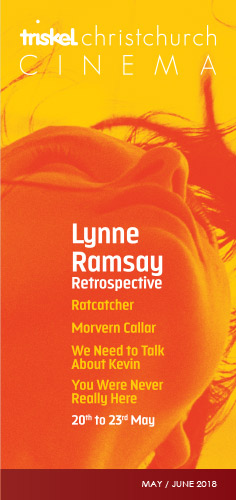 After some unavoidable mechanical issues at the printers, we were unable to provide the April 2018 Cinema Brochure for you. Sincere apologies for any inconvenience caused but the brochure is back and featuring a wonderful six week programme of movies for you to enjoy.
There is a showcase of French cinema in this line-up with 120 BPM, Let The Sunshine In, I Got Life!, Redoubtable and Custody; the wonderful Irish documentary Making The Grade from Ken Wardrop; Canadian cinema with Never Steady, Never Still and Allure; the 1932 Universal horror classic The Old Dark House, beautifully restored and back on the cinema screen.
I'm delighted to present another of my long-intended pet projects in this programme. We host a special retrospective of filmmaker Lynne Ramsay, whose latest film You Were Never Really Here opened to much critical acclaim. We will be re-screening this, plus Ramsay's three previous features films, several shorts films, and there will be introductions and discussions with each screening.
Chris O'Neill – Head Of Cinema