Mon 4 May - Sun 10 May 2020
|
Mon 4 May - Sun 10 May 2020
|
Welcome to the current edition of Triskel Recommends, a weekly series in which we recommend films to stream online. With Triskel Arts Centre unable to screen movies as a collective experience and people staying at home in self-isolation, we've decided to highlight quality films which we think our patrons would enjoy. Each week we mix movies to rent and movies which are free to view, international and national cinema, and links to streaming sites and content that we will curate ourselves.
This week we are presenting a special programme of Cork-made artists' moving image curated by Phantoscope, Triskel's quarterly experimental film event. It is drawn from participants in LUX Critical Forum Cork. Initiated in 2019, the Critical Forum is a discussion group for artists, critics and curators who have an investment in the future of the moving image. It is a space for criticality and debate in a mutually supportive environment and operates in dialogue with Critical Forum groups in Dublin and across the UK.
The seven films that make up this programme give an enthralling reflection of the current richness of artists' moving image in Cork. Aisling O Connell, Natasha Bourke, Mieke Vanmechelen, Arran Tenzin Bradstock, Michael Holly, David Bickley and James McCann offer distinctive visions of what contemporary experimental moving image can be. This programme was first screened at the Luminous Void Experimental Film Festival last December.
Maximilian Le Cain – Phantoscope Programmer
---
Phantoscope presents: LUX Critical Forum Cork programme
1 – Sodomy Sunday
2 – Insideout Triptych
3 – Physical Quantum
4 – Transitional Repetition
5 – Cairn G
6 – Threads
7 – Я
---
01) Sodomy Sunday
(Aisling O Connell, 6 mins)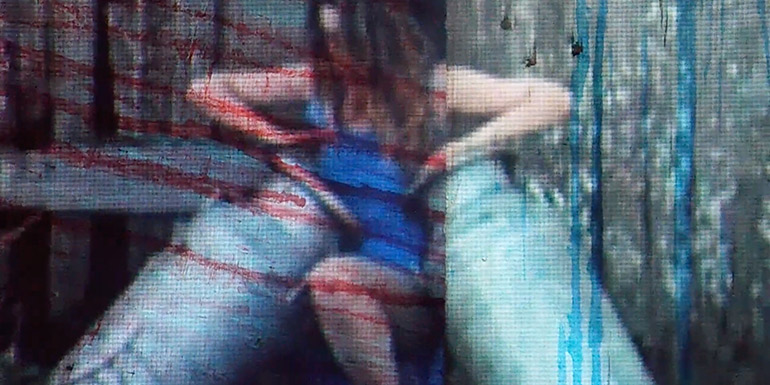 Aisling O Connell's work begins in the body, and usually materialises in the form of experimental film.
Sodomy Sunday was made in October 2019, in the knowledge that Sodomy Sundays are a still a common occurrence in many households, and can often last for weeks, months or even years. (Mature content, viewer discretion advised)
Sodomy Sunday
https://vimeo.com/412839295
---
02) Insideout Triptych
(Natasha Bourke, 25 mins)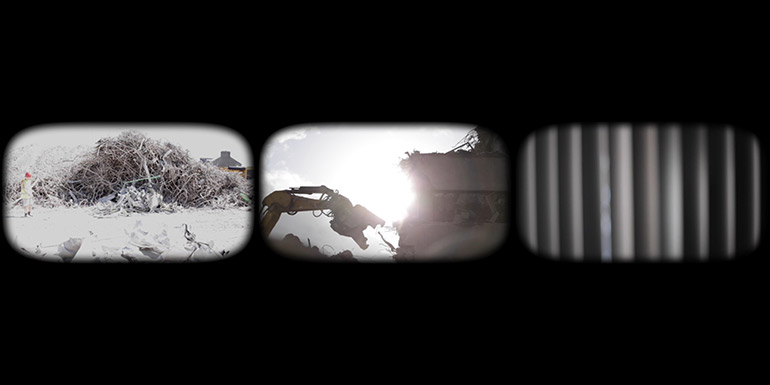 Natasha Bourke is an interdisciplinary artist with an extensive movement and performance background. Her practice embraces the use of film, photography, installation, drawing, archive, sound and performance. Bourke's observations, roots, life and mixed experience of intense ballet training from infancy underpin her work to contemplate universal themes of self and society such as identity, institution, transience, perception, polarity and pathos. With a surreal, playful and spectral aesthetic, Bourke continually investigates new ways to merge and refine the different strands of her practice into a unique poetic language, whilst maintaining an open approach and process.
Insideout Tryptich is one of 3 films made for Bourke's recent installation Rubblebubble, a sister installation work to Concrete Keys, the artist's upcoming experimental feature length film that poetically examines the individual's place in a rapidly transforming vision of institutional society.
Insideout Triptych
https://vimeo.com/410964275
---
03) Physical Quantum
(Mieke Vanmechelen, 9 mins)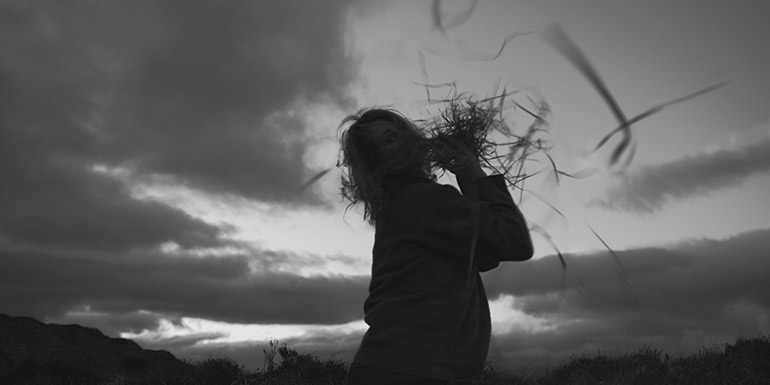 Mieke Vanmechelen is interested in alternative ways of 'being' that do not include the metrics of momentary gratification. She makes films using observational and performative methodologies. She is drawn to imagery that is viscerally charged, explicitly harsh, yet inherently untamed and resonant of an intrinsic life force. Her work was selected to be part of Home: Being and Belonging in Contemporary Ireland at The Glucksman, Cork, as well as RAGFF New York and NY Independent Film Festival (2020).
In Physical Quantum, the isolated figure is caught finding new ways to accept or reject the inevitability of a force being unrelentingly propelled at her being. The order of time has been reversed and the generally accepted position has shifted.
Physical Quantum
https://vimeo.com/412863924
---
04) Transitional Repetition
(Arran Tenzin Bradstock, 5 mins)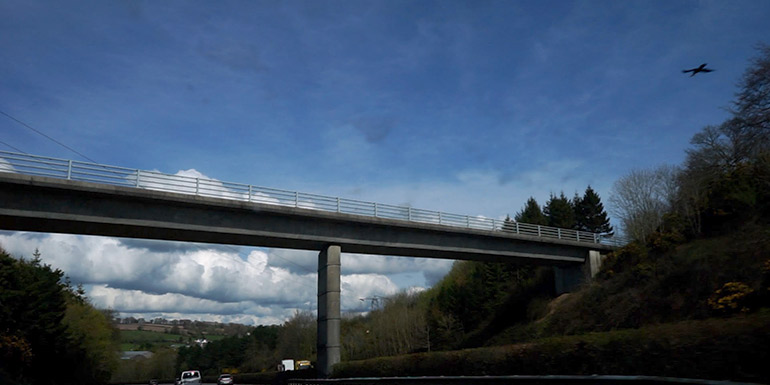 Arran Tenzin Bradstock is a filmmaker and musician from Cork who recently graduated from UCC's 'MA in Experimental Sound Practice'. He is interested in exploring the audio/visual relationship in experimental film through free improvisations and editing based on chance procedures.
Transitional Repetition features moments of transition captured in a series of repeating loops, explored through an improvised score composed in real-time to the visuals by trumpeter Glen Whitehead.
Transitional Repetition
https://youtu.be/GXC9pkeUW2w
---
05) Cairn G
(Michael Holly, 10 mins)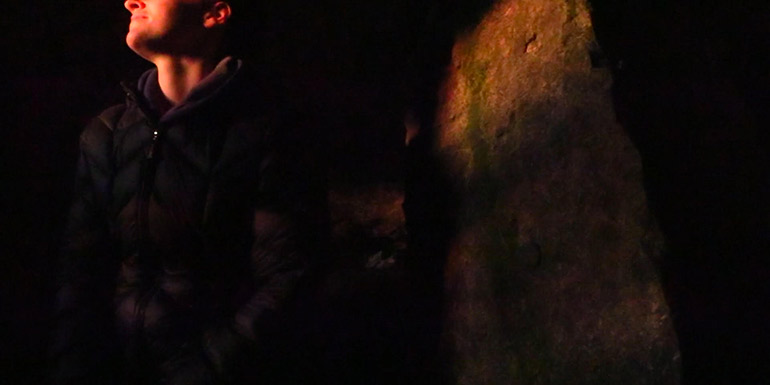 Michael Holly has exhibited widely as a video, sound and installation artist. His current doctoral research at University College Cork focuses on the intersection of avant-garde non-fiction film and contemporary art.
In the days around the Summer Solstice each year the light of the setting sun enters the chamber og cairn G, a neolithic passage tomb in the Northwest of Ireland. Cairn G was made during the phenomena on June 21st, 2019, and depicts human interaction with the site.
Cairn G
https://vimeo.com/412871630
---
06) Threads
(David Bickley, 10 mins)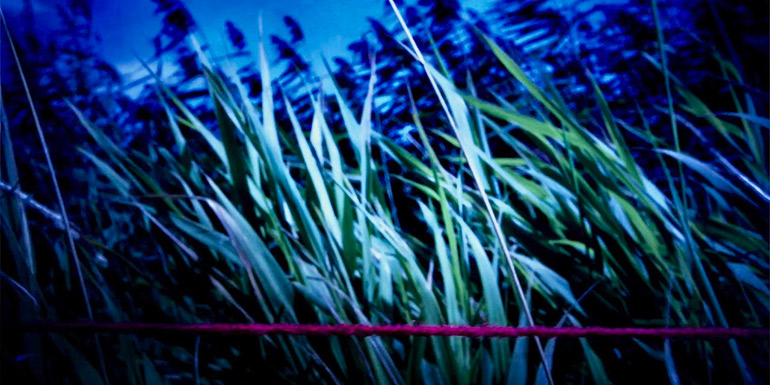 David Ian Bickley's Threads is a monomyth, a personalised journey that the viewer is encouraged to take, through a series of events based on Irish folklore. Through a truly immersive audio visual environment the visitor experiences a direct visceral connection with the conceptual, the ancient symbolic motifs embedded deeply in Irish culture. The content is based on a simple premise, that of someone having lost their way. Initially this is physical, the protagonist, whom we never see, has wandered off the beaten track and find themselves in an unfamiliar place. This relates to the idea of 'The Stray Sod' an old Irish folklore motif  where someone accidentally enters in to Fairyland. In Cornwall we call this Pixie-led but the meaning is the same, a journey that if successful, will ultimately change the consciousness of the hero and their progress upon return to the world of man. The audio elements are primarily made up of location recordings augmented and developed through sound design techniques.
Threads
https://vimeo.com/360242229/fe0c2957b4
---
07) Я
(James McCann, 18 mins)
James McCann is a Video Artist, Sculptor, and Performance Artist based in Cork/Glasgow. His work ranges from assemblage sculpture to overlayed montage film. Two things which have consistently underlined his practice are a perversion of utility, and a non verbal communication through the disarticulation of the art object. His work derives from an instinctual sense of dialectics and allegory based on detritus, human semblance, and hierarchical systems of order in art and society.
Я
https://youtu.be/taAE7p4no6c
---
Next Week
In association with Watchmaker Films, Triskel is delighted to present Eggshells, the rarely-seen independent psychedelic debut feature from Tobe Hooper (director of The Texas Chain Saw Massacre and Poltergeist). Along with being able to rent the film online, there will be other bonus content available too.
---
Donation
We hope you enjoy our movie recommendations and we look forward to welcoming you all back in person soon. If you would like to make a donation at this time, we'd be very grateful. All donations received through this link will be shared between Triskel and the seven featured filmmakers. Stay safe.