Mon 8 Jun - Tue 7 Jul 2020
Mon 8 Jun - Tue 7 Jul 2020
Welcome to the latest edition of 'Triskel Recommends', a series in which we recommend films available to stream online. With Triskel Arts Centre unable to screen movies as a collective experience and people staying at home in self-isolation, we've decided to highlight quality films which we think our patrons would enjoy.
With each edition, we mix movies to rent and movies which are free to view, international and national cinema, all kinds of genres (shorts, documentaries, experimental, B-movies, foreign language), and links to streaming sites and content that we curate ourselves.
Following the success of our recent The Early Films of Tobe Hooper package, Triskel is delighted to present another video-on-demand offer to our patrons: Shem The Penman Sings Again (2015), a musical and cinematic journey into James Joyce's creative imagination, inspired by Joyce's connection to the tenor John McCormack. The character of Shaun the Post in Joyce's "unreadable" novel Finnegans Wake was based on McCormack while Joyce portrayed himself as Shaun's lowly twin brother, Shem the Penman. Joyce and McCormack's encounters are reimagined and interrupted by a series of films within the film which chart the exploits of Shem and Shaun. As Joyce's eyesight fails, the narrative is carried by a mix of archive recordings and imaginary radio broadcasts. Pooleen Productions in association with Irish Film Board presents Shem The Penman Sings Again. It was directed and co-written by Cork filmmaker Pádraig Trehy, it received its World Premiere at Cork International Film Festival and went on to be screened at Triskel, the Irish Film Institute, Queen's Film Theatre and the Institute of Contemporary Arts.
Shem The Penman Sings Again is available to rent for €4 and the proceeds will be split between the filmmakers and ourselves. To view, simply click on the 'Rent' button on this page. The rental period is for 72 hours.
The following article about the film by Colin McCracken originally appeared in the online publication The Last Cinema and the writer has kindly allowed us to republish it.
Shem The Penman Sings Again Introduces James Joyce's Work to a New Audience
To mention James Joyce outside of literary or academic circles can be a dangerous affair. The likelihood of eliciting a reaction of disinterest or aversion is high, and not without reason. Joyce's texts have a long-standing reputation for being notoriously oblique, filled with complexities and references which require a great deal of background knowledge to fully appreciate.
There are, however, many other facets to Joyce which would appeal to a greater audience if presented in the right way. Bypassing the linguistic gymnastics and metaphorical nuances within his books (particularly his later works) allows the true spirit of his genius to shine through. A playful, roguish author with a keen sense of wit and a penchant for the sentimental, Joyce is a writer who can, and should, be enjoyed by everyone. If only there were a way past the initial hurdles.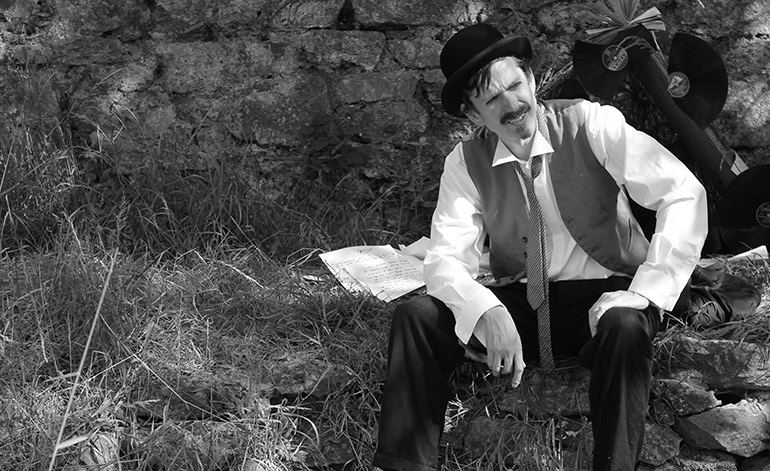 Joyce's follow up to Ulysses (regarded as one of the most challenging books of the 20th century) was a project which would cost him everything; his family, his reputation and his sanity. Finnegans Wake was first published in 1939 and was met with almost universal confusion, a reaction which has barely subsided in the decades which have since passed. Even Joycean scholars struggle with its seemingly impenetrable text, but one ambitious filmmaker has used it as a key source of inspiration for his debut feature; Shem The Penman Sings Again.
Pádraig Trehy, who also works as a lecturer at the prestigious Crawford College of Art and Design in Co. Cork, Ireland, has done the unthinkable in that he has created a doorway into Finnegans Wake and the life of James Joyce, through which anyone with an open mind may step, and there are many treasures contained within.
Charting the parallel lives and ongoing relationship (citing both fact and legend) of Irish tenor John McCormack and James Joyce, the film blends fantasy, surrealism, silent comedy and a range of other representative formats to create one of the most competent and approachable experimental films in years. Trehy, clearly versed in classic cinema, manages to weave together a magical and otherworldly narrative which not only charts the lives of the aforementioned pair, but juxtaposes it alongside the lives of Finnegans Wake characters Shem The Penman (a writer in the novel), his brother Sean The Post (a postman) and their sister Issy.
Opening with the story of the Feis Ceoil (a classical music competition) which was supposedly attended by both Joyce and McCormack (the truth being that their entries were several years apart), the bombastic and succulent ballads provide a framework into which the extracts and quips of Joyce fit beautifully.
By journeying through Joyce's real life, his fiction and the legends which inevitably grew around him, Trehy develops a unique sense of the author's rhythmical and melodic use of language. Something that was intentional and came from an unexpected source:
"I discovered that John Cage had done a version of Finnegans Wake called the Roaratorio for German radio in the '70s," Trehy explained, "How I didn't know this I'm unsure. He had Irish musicians and Joe Heaney the Sean-nós singer. He sent guys all around Ireland with tape recorders recording the conversations outside pubs and all this crazy stuff. Cage's idea was that the book was always a libretto and that it was very noisy and he wanted to bring out the noisiness of it." This is where something important occurred to the filmmaker, "With Finnegans Wake, it's not about understanding it, it's about listening to it."
Once the story of how the book was written comes up, that philosophy begins to make even more sense. Joyce, who was legally blind at the time of writing it, would dictate sections to his secretaries (one of whom at the time was Samuel Beckett) and have them read it back to him. This accounts for much of the onomatopoeia in the book, as well as putting stock in Joyce's claim that it was a book to be read aloud.
It's been a long road for Trehy and his producer, Rossa Mullin, to get the film off the ground. Within the last six years they have negotiated the perilous task of achieving funding (something even more admirable when achieved in an economic downturn) as well as bringing together the talent necessary to pull off such an ambitious project.
One of the most interesting aspects of the film is that it features five different actors as James Joyce (during various stages of his life) and each one manages to not only look uncannily like the author, but to bring their own individual skills to the forefront whilst representing him. It is Frank Prendergast who gets the most screen time in his dual roles as Joyce and Shem. His interaction with Louis Lovett's Sean / John McCormack characters is an absolute joy to behold, with their scenes together ranging from the melodramatic to vaudevillian farce, often within just a few moments of each other.
Prendergast gives a pitch perfect rendition of a reading from the novel at one stage, making for one of the film's most memorable and impressive moments. "That's Frank, he's incredible," confirms Trehy, "He just inhabits the whole scene and that voice. If you go and listen to Joyce on YouTube, and then listen to Frank afterwards, you would believe that you were hearing a better quality recording. That's where the Cork helps. Joyce has an Irish accent, not a Dublin accent. A middle class Dubliner of Joyce's standing who went to Clongowes (Wood – Private School), wouldn't have a Dublin accent as we understand it today. He's listening to his father's Cork accent and so the logical thing is that there's more Cork in it than Dublin. To get someone that not only looks right, but who can perform and do the voice so well is a dream."
Aside from Prendergast's haunting performance, Hugh O'Conor, Tony Weldon, Martin Lucey and Brian Fenton all give equally striking presence to the slight and distinguishable character of Joyce. There was, as Trehy further elaborates, another reason for having multiple Joyces in the film; "One of the underlying themes is that of schizophrenia, how Joyce manages his own creative schizophrenia and how Lucia doesn't manage hers."
Lucia Joyce was the talented and vivacious daughter of Nora and James who, sadly, succumbed to mental illness and was committed to an asylum in France. She could easily have become a world famous dancer, had her afflictions not taken the better of her, something which is alluded to in a subtle, yet deeply moving way within the film. "She is so fascinating and tragic," adds Trehy, "I'd love to have done more with her, but I would have created an imbalance. I think what's there is fantastic and Laura (Murphy, who also plays Issy) does an incredible job of inhabiting the torment inside Lucia."
Trehy's use of black and white is complemented by a myriad of styles, ranging from slapstick to animation, something which he feels particularly happy about including in the film (especially given its racy subject matter in which a couple get physical down by the shore). "I think I have my 12a cert for the dirtiest piece of animation in recent memory," he laughs, "That was a happy accident. I wrote the scene to be played by Brian (Fenton) and Fiona (Lucia McGarry) and just said 'No' as it was due to be shot in November and that would have just been too much to ask them. I always had an animated element in it and the animator and I love Lotte Reiniger so that's our little tribute to her."
Using the cinematic formats which were prevalent in Joyce's day was a move which has benefitted the film greatly. With stunning cinematography and set design, certain sections seem almost authentically vintage, displaying a true love and appreciation for the craft of silent film. It's worth noting that Joyce himself was a huge admirer of cinema: "Well, he established the Volta in Dublin, and I started looking into this," Trehy adds, "The Cork University Press published a book about Joyce and Cinema. When his eyesight was still good in the early days he loved going and he loved silent comedy. He would watch Chaplin and Keaton, then go home and listen to really sentimental music. So, here's the high priest of modernism listening to and watching quite populist, sentimental works. That fascinated me. There's loads of references in Finnegans Wake to cinema. There's references to radio as well. I was happy to know they were there, but I didn't feel the need to incorporate most of them, as that would be veering towards adaptation."
Adaptation is definitely something which Shem The Penman Sings Again steers away from but, in doing so, it gives an insight into Joyce which has never been seen on screen before.
"One of the things you're not meant to be able to do is make a writer's life interesting, but I like a challenge," says Trehy, before further explaining the use of McCormack as an anchor for the film. "McCormack was the trigger. The academic approach can get you into Joyce's head, but the music will get you into his heart."
And what a heart it is. Brimming with humour, style and grace, Shem The Penman Sings Again contains all the delights cinema can offer, whilst providing an insight into Joyce for those who otherwise might have not welcomed him into their lives.
With pathos, abstraction and humour, it led to the question of what Trehy felt was the most important part of Joyce's work for him. "Laughter," he said. "That was so important. John Cage brought it to my attention when he said there are two things in the world that you can't explain; music and laughter."
– Colin McCracken
---
Shem The Penman Sings Again is available to rent for €4 and the proceeds will be split between the filmmakers and ourselves. To view, simply click on the 'Rent' button. The rental period is for 72 hours.
This Rental Package is Available Worldwide
---
Thank you for your support and Donations
We hope you are finding the 'Triskel Recommends' picks enjoyable during this uncertain time. While Triskel Arts Centre is closed we are going to continue to bring quality films into your home for the interim.
By renting and donating this allows us to present films online while also supporting our organisation during this strange and unprecedented period but rest assured when we are able to open once again we will continue to host exceptional cultural cinema in the unique setting of Triskel Christchurch.