With Denyse Woods and William Wall Free but ticketed
Of Sea and Sand is Denyse Woods' sixth novel. Set against the stunning, rugged landscape of Oman and the wild Atlantic coast of Ireland, with a detour to war-time Baghdad, this is a story of remorse, exile and the unseen. "Sometimes, the sunniest settings have the darkest shadows. Of Sea and Sand takes you to such a place, plays tricks with light and time-and leaves you not knowing who is real: Us, or Them? Fictional angels and vampires have had their time. Now it's the turn of the jinn." – Tim Mackintosh-Smith.
Denyse Woods, who has also written as Denyse Devlin, is an Irish novelist, born in Boston, and the author of six novels. She has been awarded residencies by the Shanghai Writers' Association, the Centre Culturel Irlandais, Paris, and Zvona I Nari Writers' Retreat, Croatia, and is a recipient of Cork County Council Arts Grants and an Arts Council of Ireland Literature Bursary Award. In 2016, as winner of the Florida Keys Flash Fiction Award, she spent two weeks writing in Ernest Hemingway's studio in Key West – the first author to do so since Hemingway himself. In 2017, Denyse was Writer in Residence at Cork County Council Library & Arts Service. She is a former Artistic Director of the West Cork Literary Festival.
Introduced by writer Alannah Hopkin.
---
William Wall will read from what he describes as his 'experiment in form' – one story told in two forms, a collection of short stories and a novel. The short stories appear as The Islands (University of Pittsburgh Press, 2017) and the novel form as Grace's Day (New Island, 2018).
William Wall is the 2017 winner of the Drue Heinz Prize for Literature. He has also won the Doolin Prize for poetry, Virginia Faulkner Award, The Sean O Faoláin Prize, several Writers Week prizes and The Patrick Kavanagh Award. His work has been translated into many languages, including talian, Dutch, Portuguese, Latvian, Serbian and Catalan. He has a particular interest in Italy and has read at several festivals there including the Tratti Festival at Faenza, the Festival Internazionale di Poesia di Genova and at the Pordenone Legge festival near Venice. He translates from Italian. In 2014 he was part of the Italo-Irish Literature Exchange which gave readings at various places in Italy, including Sant Agata de Goti, Rome, Lugo di Romagna and Bologna. William Wall was an Irish delegate to the European Writers' Parliament in Istanbul 2010. For March 2010 he was writer in residence at The Princess Grace Irish Library, Monaco. He was a 2009 Fellow of The Liguria Centre for the Arts & Humanities. In 2008 he collaborated with artist Harry Moore to produce the Shadowlands exhibition and book.
Introduced by Professor Lee Jenkins, Head of the School of English, UCC.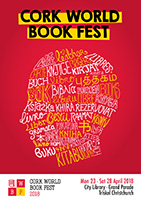 Cork World Book Fest 2018
The Cork World Book Fest is a joint production of the City Libraries and Triskel Christchurch, with the active support of the Munster Literature Centre.
For more info visit: www.corkworldbookfest.com