Few authors have been so in love with the Australian landscape as Nicholas Shakespeare. The award-winning writer, described by the Wall Street Journal as 'one of the best English novelists of our time' has devoted years to writing about Australia, including a non-fiction work, In Tasmania, as well as his novel Secrets of the Sea, which is set in the island state. Nicholas Shakespeare's latest book Six Minutes in May will be published in paperback in April. It was selected as a 2017 Book of the Year in The Guardian, Daily Telegraph, Observer and The Economist.
Nicholas Shakespeare first went to Tasmania, having heard of the island's exceptional beauty, because it was famously remote. He soon decided that this was where he wanted to live. Only later did he discover a cache of letters written by an ancestor as corrupt as he was colourful: Anthony Fenn Kemp, the so-called Father of Tasmania. On his mother's side, too, Shakespeare found he had unknown Tasmanian relations; a pair of spinsters who had never left their farm except once, in 1947, to buy shoes. Their journal recounted a saga beginning in Northern England in the 1890s with a dashing but profligate ancestor who, having played tennis with the Kaiser, ended his life in disgrace in the Tasmanian bush. In this fascinating history of two turbulent centuries in an apparently idyllic place, Shakespeare weaves the history of the island with his multiple stories.
Separated from the mainland by 140 miles of the treacherous pitch and toss of Bass Strait, Shakespeare describes Tasmania as 'like outer space on earth and invoked for all that is far-flung, strange and unverifiable… in myth and history a secret place, a rarely visited place… those few who did make the journey compared it to Elysium, or sometimes to Hades.' Reports/fables of depravity and cannibalism made it a synonym for all kinds of terror and dread.
In October 2017, President Michael D Higgins visited Tasmania and unveiled a memorial to honour the memory of Irish female convicts transported to what was then Van Diemen's land, 170 years ago.
Nicholas Shakespeare will be in conversation with former Australian resident, writer Denyse Woods.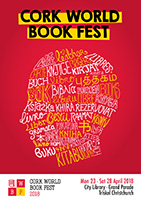 Cork World Book Fest 2018
The Cork World Book Fest is a joint production of the City Libraries and Triskel Christchurch, with the active support of the Munster Literature Centre.
For more info visit: www.corkworldbookfest.com