Fri 27 Apr - Sat 28 Apr 2018
1:00pm
Fri 27 Apr - Sat 28 Apr 2018
1:00pm
Public event 1pm – 2pm. Free but booking essential as places are limited.
Launch of books written by transition year students from St. Angela's College featuring works under several genres produced by the students themselves.
Special guest is the Dublin writer of several young adult fiction novels, Claire Hennessy.
Claire Hennessy is the author of several young adult novels. She was born in Dublin in 1986 and attended Trinity College Dublin. She is now a Director at The Big Smoke Writing Factory where she teaches creative writing – she also faciliates for the Inkwell4Kids summer camp programme and The Centre for Talented Youth Ireland. Her first book, Dear Diary…, was written when she was twelve and published by Poolbeg shortly before her fourteenth birthday. Her most recent publications are Like Other Girls (2017) and Nothing Tastes As Good (2016).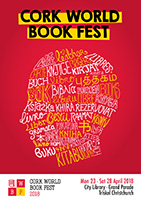 Cork World Book Fest 2018
The Cork World Book Fest is a joint production of the City Libraries and Triskel Christchurch, with the active support of the Munster Literature Centre.
For more info visit: www.corkworldbookfest.com
Book Tickets