Sat 28 Apr 2018
4:00pm
|
€8
Sat 28 Apr 2018
4:00pm
|
€8
In conversation with Deirdre O'Shaughnessy, Editor, The Cork's 96fm Opinion Line
Oh My God, What a Complete Aisling, is Aisling's first novel about a small town girl living in a notions world – in Ireland.
The book, published by Gill Books, started life as a Facebook page depicting a very particular type of Irish girl. After spending the past eight years relating Aisling's adventures to a massively enthusiastic and interactive fanbase online, Aisling is now making the jump to the page in a warm and funny novel about a country girl trying to make her way in the Big Smoke.
Aisling was conceived by Emer and Sarah in their Stoneybatter, Dublin, sitting room in 2008, when they pulled together the many traits, characteristics and quirks of girls they identified with and saw around them. So they set up a Facebook page to connect them. Friends told friends. Dozens joined, and then hundreds, all exclaiming ' Yes ! I know her' and 'Oh God, this is me'. The page now has 30,000 members and growing.
Emer is from Kildare and Sarah is from Carlow. After meeting while studying journalism at Ballyfermot College of Further Education in 2003 they formed a firm friendship, which led to the day they created Aisling. Both Emer and Sarah have gone on to work extensively in journalism.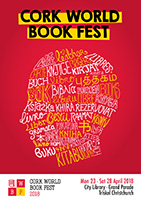 Cork World Book Fest 2018
The Cork World Book Fest is a joint production of the City Libraries and Triskel Christchurch, with the active support of the Munster Literature Centre.
For more info visit: www.corkworldbookfest.com
Book Tickets